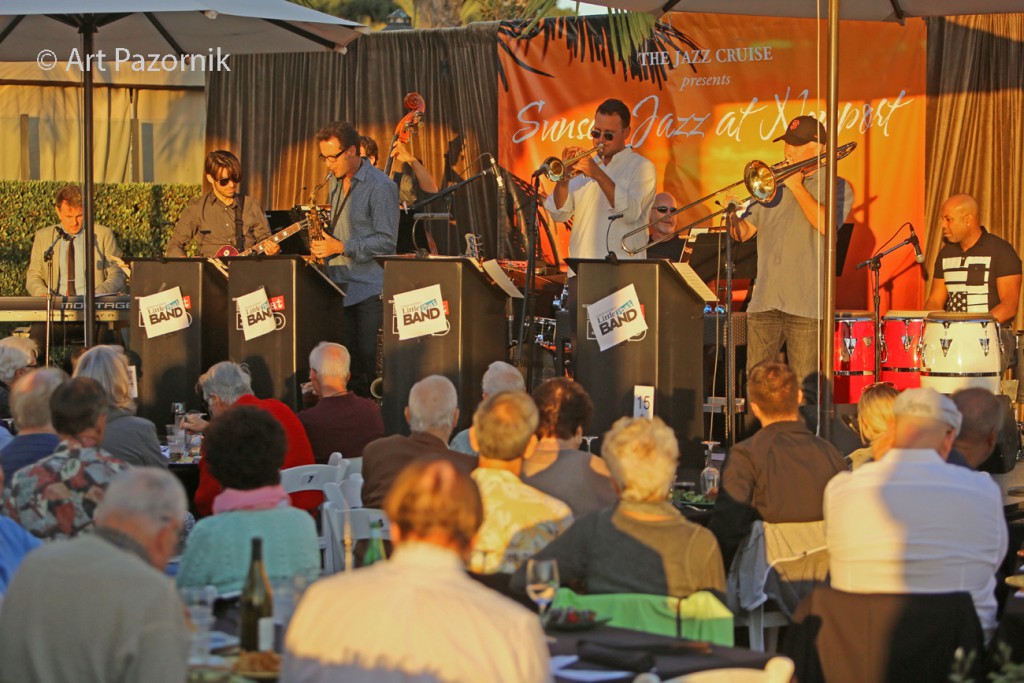 One of the top bandleaders of the past few years has been Gordon Goodwin, director of the Big Phat Band.  Goodwin is a highly accomplished composer, arranger, pianist and tenor saxophonist. as well as great bandleader.  He is no stranger to Joe Rothman and John McClure's Newport Jazz, having played on Presidents' Day and Valentine's Day earlier this year, where making a huge impression on jazz fans with his Big Phat Band. During this seventh season of Sunset Jazz at Newport, Goodwin brought his Little Phat Band to the series' closing performance on September 14.   His Little Phat Band includes some members of his BigPhat Band: Eric Marienthal (saxophones), Andy Martin (trombone), Mike Rocha (trumpet), Gordon Goodwin (piano/ tenor sax), Andrew Synowiec (guitar), Kevin Axt  (bass), Ray Brinker (drums), and Joey DeLeon (percussion).
Opening with a moving tune by Goodwin, "Little Phat Shuffle" kicked off the evening in great form. The number was very interesting and a superb sounding piece.  Solos were provided by Marienthal (sax), Rocha (trumpet) and Brinker (drums).  The band sounded extremely cohesive throughout this entire concert before a full audience.  Goodwin introduced his Little Phat Band, telling the audience that this group is like the cousin of the Big Phat Band.  He gave a history of his development of love for big bands earlier in his life, around middle school and afterwards. Tunes that followed continued to be a surprise.  "Caught in the Act" is titled "Cot in the Act" on his CD and in this concert.  It maintained a Latinized form and included good solos from guitarist Synowiec and bassist Kevin Axt.  They also performed the titled number from their newer CD, An Elusive Man. The audience enjoyed this number a lot and gave their applause in recognition.  The Ellington classic, "In a Sentimental Mood," showcased trumpeter Rocha, giving a brilliant performance.  They closed the first show with the Juan Tizol's famous "Caravan"  with outstanding solos by all members of the group.
During the second show, one of the highlights was their take on "Walkin'," the Miles Davis gem, originally written by Richard  Carpenter.  Goodwin played his tenor sax, wowing the audience, along with Rocha's fine trumpet again and Brinker's exceptional drumming.  Earlier, they opened the set with a unique samba composition of Goodwin's, "Samba Cya."  Sparkling performances came from Goodwin, and Martin, Synowiec, as well as a very definitive performance from DeLeon, soloing on congas and more.  Featuring Martin's smooth and lovely trombone work, the band played the marvelous ballad and standard, "Polka Dots and Moonbeams."   The audience enjoyed this as a remarkable number of the evening.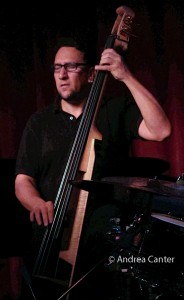 Closing the evening's concert came two musical surprises: First, Goodwin  put forth an idea about having a successful jam with the band for a tune that everyone knew, "There is No Greater Love."  He talked of the idea that, in a smaller group, there is a lot more room for soloing creation.  Some of the best jazz came out during this tune.  Rocha played brilliantly with muted trumpet; Goodwin played both piano and tenor sax; Marienthal and Goodwin exchanged eight and twelve-bar breaks; and Brinker played a fantastic solo on his drum set. Second surprise was the he last tune tonight, "Why We Can't Have Nice Things," by Goodwin, a fantastic and jazzy number.  The audience gave the Little Phat Band a big standing ovation!
Gordon Goodwin also now has a newer show on KKJZ, 88.1 FM titled "Phat Tracks."  It is on every Saturday, Noon to 2:00 pm (Pacific time zone).  See KKJZ's website: www.jazzandblues.org.  See also: www.gordongoodwin.com and www.littlephatband.com for much more information.
The producers of these series will return to the Newport Beach Marriott with the 17th Annual Newport Beach Jazz Party featuring over 90 artists covering 4 nights and 3 days of non-stop jazz, February 23 -26, 2017.  See: www.newportbeachjazzparty.com
Adapted from LA Jazz Scene, October 2016 issue.