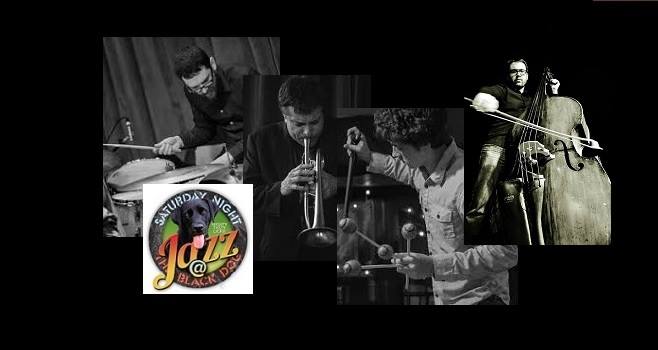 Daylight time has another month or more to go, but Central Standard Time returns to the Black Dog on September 17 — that's one of Steve Kenny's ensembles with a somewhat fluid cast. This Saturday at 8:30 pm, Kenny (on Flumpet) is joined by vibes master Levi Schwartzberg, sax veteran Dave Brattain, bassist Kameron Markworth, and drummer Cory Healey. The opening set at 7 pm eatures the monthly JazzINK Youth Showcase, now scheduled monthly on the Saturday Night Jazz series and highlighting the best of the metro's teen talents. This month the spotlight shines on a quartet dubbing themselves "The Icky Quartet" — led by drummer Simon Petrick.
Icky Quartet (7 pm)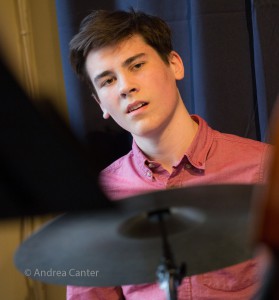 Don't be put off by the band name–this is anything but "icky" music in the hands of these young lions. Leader Simon Petrick is no stranger to the Black Dog, as the young drummer performed here several times in the past year in varying combinations with fellow teens Will Schmid, Jordan Anderson, Alma Engebretson and more, as well as in bands performing at Jazz Central, Reverie, 318 and beyond. Simon attended the Mainstreet Academy for Performing Arts in Hopkins last year, and as a senior is now enrolled full-time at the U of M where he will participate in the university's jazz ensembles. He currently studies with JT Bates and Phil Hey.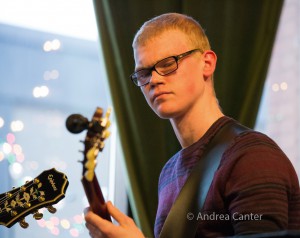 Alto saxophonist Ivan Cunningham similarly is already a veteran performer. A senior at the Perpich Center for the Arts, Ivan has performed around town in other youth ensembles as well as with his father, Chris Cunningham, in the edgy pro ensemble, Fall of the House of Usher. Guitarist Adam Astrup has also had a busy gigging schedule. Now a senior at Ricori High School, Adam spent the past two years with the Dakota Combo as well as performing in a duo with guitarist Will Schmid (appearing at the Twin Cities Winter Jazz festival, summer jazz festival, and Iowa City Jazz Festival), in several other trio and quartet configurations, and studying with Zacc Harris. Bassist Nicholas Christenson is a senior a South High, and has also performed around town with Ivan, Simon and other student artists.
Why the name "Icky"? Says Simon, "the intrigue factor." Most of this ensemble will warm up Friday night as Simon, Ivan and Nicholas perform on the High School Jam at Jazz Central.
Central Standard Time (8:30 pm)
Under the leadership of Saturday Night Jazz at the Black Dog curator Steve Kenny, CST launched about two years ago and has involved a rotating, cross-generation cast of area artists.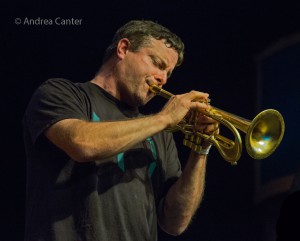 Steve Kenny studied at the University of Wisconsin-River Falls. Among many projects, he has performed with What Would Monk Do, the Cedar Avenue Big Band, and Larry McDonough's quintet (tribute to Chet Baker) as well as leading several editions of his own quartet. He's also known as co-founder of the Illicit Sextet, an ensemble popular in the 1990s before taking a long hiatus, and back in action for the past six years. Steve has received a Minnesota Music Award, West Bank School of Music Jazz Composer award, and multiple honors as Best Jazz Trumpet at the Eau Claire Jazz Festival. With support from a state arts board grant, he curated the ten-week "All Originals" jazz series at Studio Z for two summer seasons, continuing with a shortened schedule in summer 2016. In fall 2014 he launched the weekly Saturday Night Jazz at the Black Dog series, and in spring 2015, brought a similar series (Friday Night Jazz) to The Nicollet, recently rebranded and rescheduled as Thursday Night Jazz at Reverie. And that instrument he plays? It's a FLUMPET™– a hybrid trumpet/flugelhorn.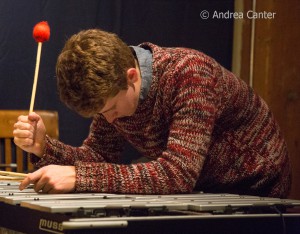 Levi Schwartzberg is a 2014 graduate of Southwest High School in high demand across the metro as a fluent vibes player, although he is also proficient as a jazz pianist. Levi participated in the Dakota Combo for two years during his high school term, playing both vibes and piano with his high school ensembles. Now in his third year studying physics and jazz at the U of M, Levi performs with U of M jazz ensembles on both vibraphone and keyboards. Locally he also performs with Sound Skirmish, Adam Linz's Le Percheron, leads his own groups, and serves many artists as sideman.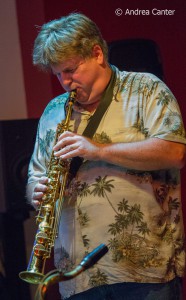 Saxophonist Dave Brattain is a 20+-year veteran of the Cedar Avenue Big Band and Vanguard Variety Ensemble, has toured the U.S. with Troupe America (1940s Radio Hour), and has been featured with pianist Ben Sidran. Locally, he's played with the Paul Renz Quintet, Jon Pemberton Quintet and JazzMN Big Band, as well as leading his own ensembles, most recently heard at the Black Dog and Jazz Central. Currently Brattain is on the faculty of Wayzata High School.
Bassist, composer, and teaching artist Kameron L. Markworth is a graduate of Indiana University, Augsburg College, and McNally Smith College of Music, currently teaching Jazz History at Augsburg. He previously served as an Associate Instructor at Indiana University in the Jazz Studies department under the direction of Dr. David N. Baker. As a performer, Kameron has supported artists in diverse genres across North America and has appeared on stage alongside John Swana, Jamey Aebersold, Steve Houghton, Corey Christiansen, Pat Harbison, Mike Hackett, and Luke Gillespie. He recently appeared at the Black Dog with Paul Harper's Bardo Quartet.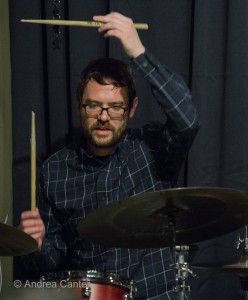 Iowa native and drummer Cory Healey moved to the Twin Cities about 3 years ago after stints in Chicago and New York. His unique and versatile style of drumming led to performance opportunities in a wide range of genres and touring extensively in North America and Europe. While in Chicago, Cory performed regularly with Windy City ensembles, including Fareed Haque's Flat Earth Ensemble, neopsychodelic-post rock jazz group Algernon, and W.W. Lowman. Healey also has performed with a number of leading international artists, including Kenny Wheeler, Dr. Lonnie Smith, John Abercrombie, and David Berkman. In the Twin Cities, Cory leads his Beautiful Sunshine Band, a quintet that released its debut recording last spring. In addition to fronting his own bands, Cory has appeared locally with the Bryan Nichols Quartet, Adam Linz's Le Percheron, Chris Bates Trio, the Jon Pemberton Trio, and more.
Saturday Night Jazz at the Black Dog takes place at 308 Prince Street in the Northern Warehouse in St. Paul's Lowertown. No cover but a donation ($10 suggested) to help support the band and the series is much appreciated. Series schedule at  www.saturdaynightjazzattheblackdog.info; venue schedule at www.blackdogstpaul.com