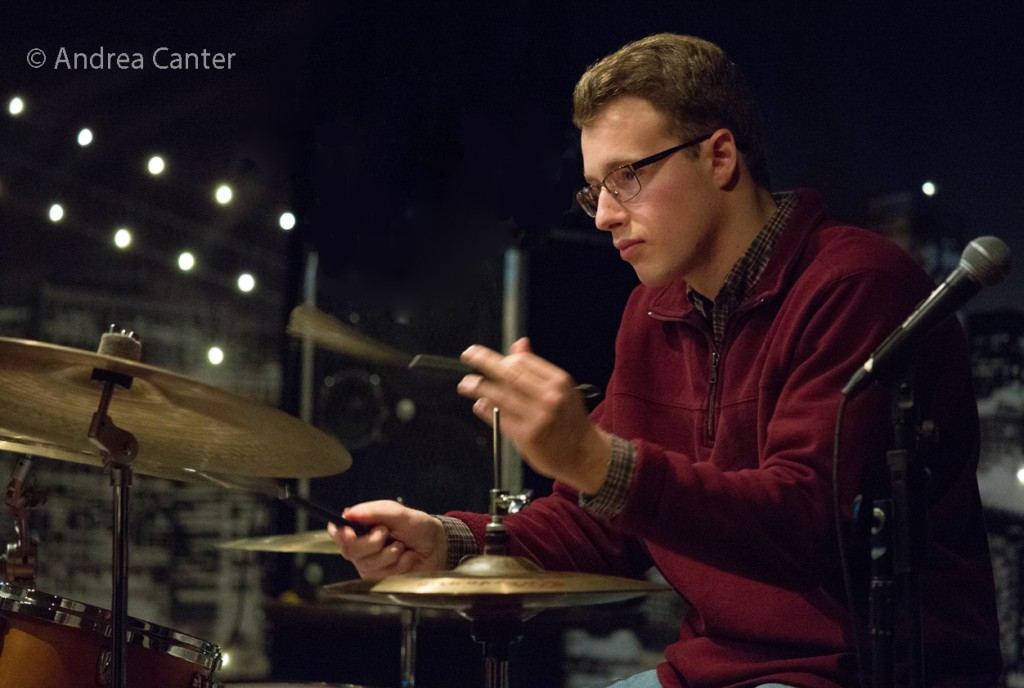 It sounds like the Jean-Paul Sartre novel that I tried to translate in high school French, but No Exit is actually a quintet of metro young lions prowling through some new music as the headline band on the Saturday Night Jazz at the Black Dog series, August 26th. They follow an opening set from Amythest 3.
Amethyst 3 (7 pm)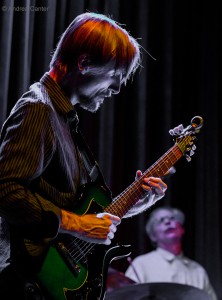 A trio of local veterans, Amethyst 3 is Park Evans (guitar), Josh Granowski (bass) and leader Byron Johnson-Blanchard (drums). The trio focuses on improvisation using tunes ranging from originals to classic rock and jazz standards.
Park Evans grew up in Ithaca, NY where he studied classical guitar. Although he relocated to Minnesota to further his classical training, he found himself studying with jazz guitarists Kevin Daley and Dean Magraw, and was soon a integral part of the Twin Cities jazz scene. Performing in bands from rock to jazz to world music, Park's credits include Firebell, Parker Paisley, New Primatives, Radio in the Desert, and These Modern Socks. Park has released three recordings of his original music and is a first-call studio musician.
Josh Granowski started on bass at age 11 and soon moved to bass guitar. A Minneapolis resident now for more than a decade, Josh is active in the Twin Cities' improvisation and experimental music community, performing with George Cartwright's Merciless Ghost, Large Marge, Bookhouse Trio, Painted Saints, Aby Wolf and more.
Byron Johnson-Blanchard is a drummer, composer, bandleader, and music educator. Since graduating from McNally Smith College of Music in 2008, Byron has performed with renowned Twin Cities musical acts such as High & Mighty, Tom Hunter, Vintage Raggs, Zacc Harris, Mill City Hot Club, and Papa John Kolstad. He is currently a member of Silverback Trio and BZB Trio, in addition to leading Amethyst 3.
No Exit (9 pm)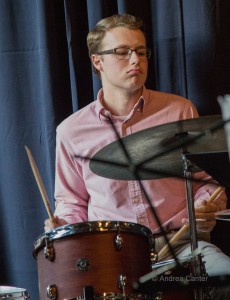 Five friends with the Dakota Combo in common, No Exit is a relatively new band led by drummer Luke Peterson, drawing on the talents of Peter Goggin (alto sax), Levi Schwartzberg (vibes), Adam Astrup (guitar), and Charlie Lincoln (bass). Astrup is just a high school senior; Lincoln, Goggin and Peterson are each entering their second year of college studies, and Schwartzberg is the "old man" of the group, entering his senior year at the U of M. Each musician participated in the Dakota Combo during his high school days, Peterson with Goggin, Lincoln and Astrup, Schwartzberg overlapping with Goggin for one year.
Luke Peterson is a graduate of Apple Valley High School who performed with the Dakota Combo during his senior year. He currently attends Northwestern University as a math major while also studying jazz and performing with jazz ensembles under the leadership of Victor Goines, director of jazz studies.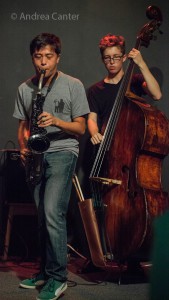 Alto saxophonist Peter Goggin graduated from Mounds View High School. He is one of only two students to participate in the Dakota Combo for three years. During his summer break from jazz studies at the University of Michigan, Peter performed at major venues with the band Hoaxer.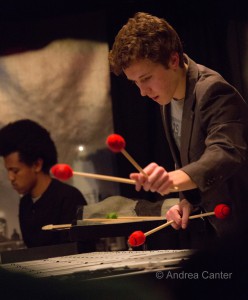 Levi Schwartzberg graduated from Minneapolis Southwest High School where he often played piano with jazz bands and played vibraphone with the Dakota Combo for two years. Now in his final year at the University of Minnesota where he is a physics major, Levi has played both vibes and piano with the U of M Jazz bands. He is also an active performer on the Twin Cities jazz scene, leading his own bands and playing in Adam Linz's Le Percheron and Sound Skirmish, among others.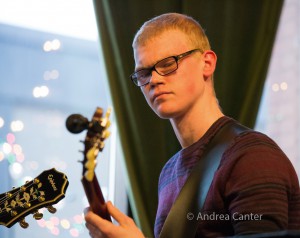 Adam Astrup is barely old enough to make the drive from his home in Cold Spring, MN to Minneapolis where he studies guitar with Zacc Harris and has participated for the past two years with the Dakota Combo. Adam has an active gig calendar, performing several times over the past year as half of the Will Schmid – Adam Astrup Guitar Duo and as co-leader of their quartet. The duo performed in the past year at the Winter Jazz Festival, Twin Cities Jazz Fesitval, and Iowa City Jazz Festival.
Charlie Lincoln is already a busy bassist despite his youth, only one year into jazz studies at the Berklee College of Music in Boston. A South High and Dakota Combo alum, Charlie has curated a monthly new music gig for Jazz Central this summer, has performed with Eric Gravatt, and has performed recently with Hoaxer and with Edmund Catlin and Levin Schwartzberg as "Boo Boo's Birthday at Jazz Central Studios.
Notes Luke, "We will premiere the 10-piece project I worked on this past year, along with a number of covers. This will be my final performance of the summer."
Saturday Night Jazz at the Black Dog is curated by Steve Kenny and presents two bands every Saturday night at 308 Prince Street in St. Paul's Lowertown. See full schedule each month at www.saturdaynightattheblackdog.com.