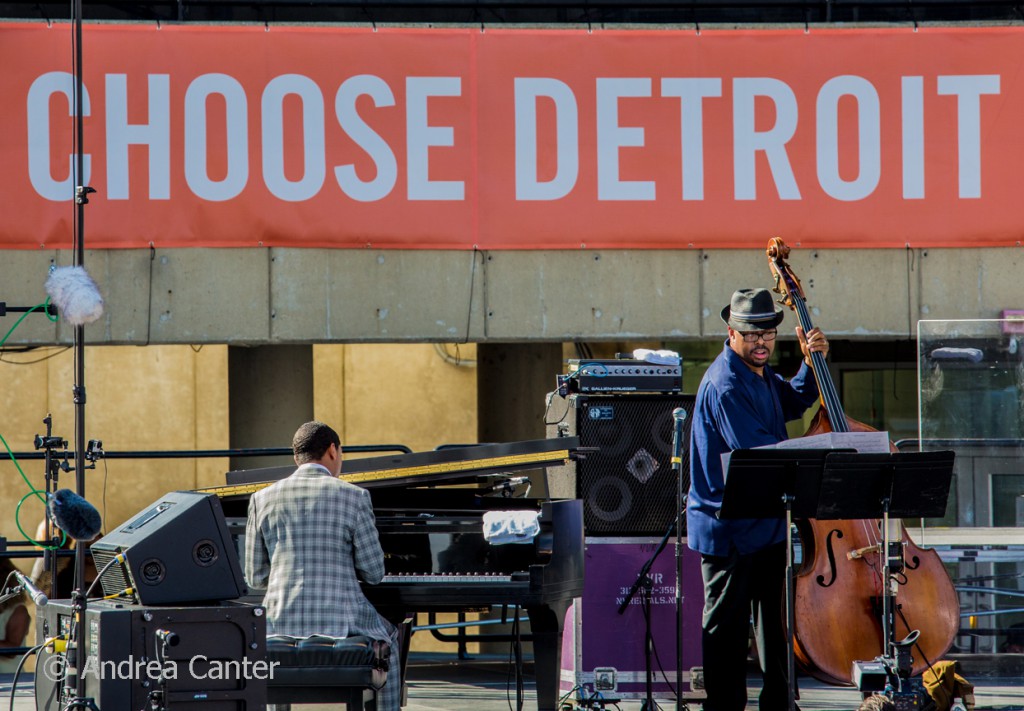 The banners draping the Carhartt Amphitheater and Hart Plaza gateways read "Choose Detroit." Every Labor Day weekend for the past eight years, I have done just that. I've chosen to spend four days in the heart of one of the nation's most challenged cities to challenge myself to sift through schedules for approximately 70 sets of music on the four outdoor stages as well as numerous interviews, presentations and late night jam sessions; to plow through throngs of over a quarter million people seeking seating at those four outdoor stages. Some years (as in 2015), there's also the challenge of late summer heat bouncing off concrete risers and pavement, or threatening skies and cloudbursts (no such threat in 2015). When it's all over, invariably I am struck by two observations: 1) I can't believe the music I heard, and 2) I can't believe the music I missed.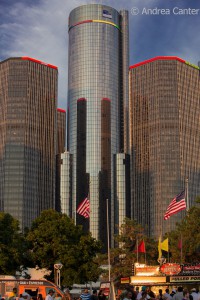 But I always hear plenty that underscores the magic that is the Detroit Jazz Festival, the world's largest free jazz festival and the largest jazz festival in the U.S. For free, I have the opportunity (if not the time!) to hear the best jazz artists in the world, from living legends like Ron Carter and Pat Metheny to fast-rising stars like Jon Irabagon and Aaron Diehl, from current poll-toppers like Anat Cohen and Brian Blade to veteran virtuosos like Carmen Lundy and Joanne Brackeen.  If I miss Danilo Perez and Christian Scott, I can nevertheless hear Gary Burton and Rene Marie. The decisions are nerve-wracking and sometimes the choice simply boils down to distance between stages and the best chance for seating. But no matter what, you can't lose in Detroit. The options are always win-win.
And the options are always true to jazz. Here you will not see the blues, rock or pop artists that often serve as headliners at many other "jazz" festivals. "What we're about here at the Detroit Jazz Festival is jazz," says Artistic Director Chris Collins. "So everything that falls from that tree; it doesn't exclude any of the other forms that integrate and infuse and corroborate with jazz, but it always comes from that place."
This review merely summarizes one experience in Detroit — with the limitations imposed by time, age, and endurance. Up front, I have to note that I missed a number of sets that garnered rave reviews, including the Brian Blade Fellowship, Joanne Brackeen, the North American premiere of Pat Metheny's "Hommage," Danilo Perez's world premiere of his "Detroit World Suite," the late Charlie Haden's Liberation Music Orchestra (conducted by Carla Bley with Steve Swallow); and the Kenny Garrett Quintet, among others.
The World of Jazz in Four Days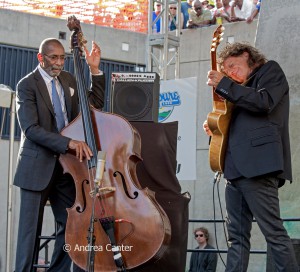 Pat Metheny, Artist in Residence. Each year, the festival appoints an "Artist in Residence" who appears throughout the weekend in different contexts. Guitar God Pat Metheny also vowed to perform on each festival stage, perhaps without considering the logistical barriers of putting a Guitar God in the smallest venue. Opening night (Friday) at the JP Morgan Chase Main Stage featured Metheny and his long-standing trio with bassist Scott Colley and drummer Antonio Sanchez, joined midway through the set by alto sax sensation (and Detroit native) Kenny Garrett. Metheny opened the set solo with his double neck guitar, always a crowd pleaser. He didn't name any of the tunes although Metheny-ites surely recognized many; "James" was a personal favorite that gained energy from Garrett's soloing. Personally I thought Garrett added significant depth to the set in general.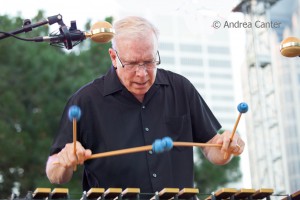 Metheny came back Saturday to join long-standing cohort Gary Burton in a quartet with Colley and Sanchez, who have worked often with both the guitarist and vibes master. On the Absopure Water Front Stage– reoriented this year to face the Detroit River, the quartet ranged from sublime to soaring, with a set list that included Steve Swallow's "Falling Grace," Chick Corea's "Sea Journey" and Carla Bley's "Olhos de Gato" as well as a fiery reading of Metheny's "Question and Answer," and a particularly aggressive attack by the Burton/Metheny duo on "Summertime." Sunday afternoon was perhaps the warmest of the weekend, and it seemed that half of the entire festival audience tried to cram into the very modest Wayne State University Pyramid Stage to hear Metheny in duo with bassist Ron Carter. Carter expects his collaborators to "dress for success" and this was the only time I have ever seen the guitarist in a suit jacket. In the "media pit" at the front of the stage, the press photographers were not only limited to five minutes (Metheny's request), but were only able to exit through the tunnel leading outside– making it impossible, given the crowd, to return to hear the rest of the set. The opening was a gorgeous duet on Jobim's "Insensatez," making our early exit the most frustrating moment of the weekend.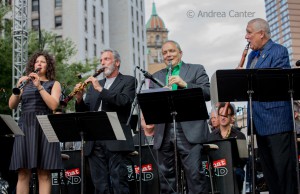 "Benny's Threads" (Tribute to Benny Goodman), Friday at JP Morgan/Chase Main Stage. It was a perfect opening volley for a jazz festival that honors tradition as much as modernism. The premiere performance of "Benny's Threads" brought together New York Times best-selling author Douglas Preston, who narrated his tale of Benny Goodman set to music provided by Gordon Goodwin's Big Phat Band and four soloists who define jazz clarinet– Eddie Daniels, Paquito D'Rivera, Anat Cohen and Ken Peplowski. Add in two Detroit favorites, pianist Barry Harris and drummer Gayelynn McKinney, and a little comic relief from the comical dance steps of the Wonder Twins. Four headless mannequins added to the staging, sporting Benny's "threads" — four classic suits worn by Goodman and now in Preston's personal collection. "Someday I'll give Benny's threads to the Smithsonian," said Preston. "But now, they're here, first time in the limelight since the King of Swing was alive."  Preston also noted that Eddie Daniels and Ken Peplowski were named by Goodman himself as his successors. And with Cohen and D'Rivera, we were treated to a night of revolving soloists and varying combinations of two, three and four virtuosos, joined in the final moments –for no apparent reason–by the white-suited Wonder Twins. (They performed last year on opening night as well.)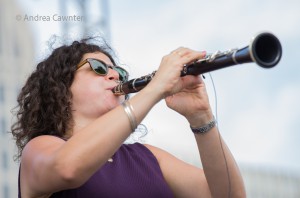 More Clarinet. Wisely the festival organizers realized it would be quite a waste to have most of world's top clarinetists in town for just one night, and Daniels, D'Rivera, Cohen and Peplowski, as well as up-and-comer David Bennett, each brought along his or her own band. Anat Cohen (Saturday on the Absopure Waterfront Stage) has been delving deeper and deeper into Brazilian traditions, showcasing her efforts with her recent release, Luminosa, and in Detroit with Delebrando Brasil. Melding modern and classical jazz, Brazilian choro, Argentine tango and Afro-Cuban rhythms, Cohen and stellar company (Gary Versace on keys, Linda Oh on bass, Daniel Friedman on drums) offered delights from Luminosa–arrangements of tunes from Nasciemento and Flying Lotus as well as Cohen originals. Anat played tenor sax as well as clarinet, but if there was another standout, it was young bassist Linda Oh.
Young Michigan native Dave Bennett (Sunday, Pyramid Stage) has been channeling Benny Goodman since his teens, and his quartet was one of my surprise delights of the weekend. Surrounded by other local heroes (Cliff Monear on piano, Jeff  Pedraz on bass an Stephen Boegehold on drums), Bennett swung through the best of Benny, with a highlight being his one-against-one drum display wiht Boegehold on "Sing, Sing, Sing."  The long-established clarinet master (and one of Goodman's designated heirs), Ken Peplowski assembled an agile quartet (Sunday, Absopure Waterfront Stage) with veterans Martin Wind (bass) and Matt Wilson (drums), along with Israeli-born, New York-raised pianist Ehud Asherie. The wide-ranging set including an obscure Strayhorn tune, "Ballad For Very Sad and Very Tired Lotus Eaters," the music no where near as strange as the title and deserving wider play.
What was a bit strange was Eddie Daniels' "Jazz Version of Vivaldi's Four Seasons — For Detroit" (Sunday, Carhartt). There have been jazz arrangements of the "Four Seasons," but this was a suite that seemed uncertain of its purpose– to highlight Vivaldi in juxtoposition to jazz improvisation? To provide a classical music interlude in the midst of all that jazz? To provide another opportunity for audiences to hear Doug Preston's poetry? Jazz trio, the Detroit Jazz Festival String Orchestra, Daniels as soloist, Preston as poet– it was an unusual work. I prefer Daniels the jazz artist to Daniels the classical clarinetist, and I prefer a jazz interpretation or the original Vivaldi to this attempt to mash it all into one suite. But it was a valiant effort to create something uniquely Detroit.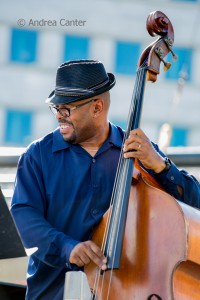 Mack Avenue Superband (Saturday, Carhartt). Always a high point for me each year is the Mack Avenue Superband. An all-star ensemble of Detroit's Mack Avenue Records artists, this is typically a burning octet, and the set is typically recorded for release the following year. The band this year was directed by Christian McBride, with his trio's pianist, Christian Sands, along with trumpeter Freddie Hendrix, alto/soprano saxophonist Tia Fuller, tenor saxophonist Kirk Whalum, vibes master Gary Burton (warming up for his quartet gig with Metheny later in the day), and drummer Carl Allen. Highlights included Tia Fuller's soaring soprano sax solo on Burton's new composition, "All You Have to Be Is You."
Maria Schneider Orchestra (Saturday, Carhartt). I had announced even before our arrival that if there was only one set I could hear in Detroit, it was the Maria Schneider Orchestra. I had not heard the MSO since it's last appearance in Detroit in 2010 although I did see Schneider with the St. Paul Chamber Orchestra and Dawn Upshaw more recently. Simply, Schneider is the quintessential jazz composer of the 21st century, and her latest recording, Thompson Fields, seems to wrap up what makes her such a stunning talent into one album. But some of what makes Schneider's Orchestra (arguably) the best in the business is her long-term relationships with her musicians, who individually are at the top of the charts.  Much of the music at Carhartt came from Thompson Fields, but some older favorites shared the applause, as did soloists Frank Kimbrough, Marshall Gilkes, Dave Pietro, Rich Perry, Donny McCaslin and…everyone else.
Horns a Plenty. There's always a bevy of top horns across the stages in Detroit. Stars James Carter, Kenny Garrett, Steve Turre, and Arturo Sandoval and more drew in large crowds to Morgan/Chase. But there were stunning horn-centric sets at Hart Plaza as well. On Saturday, for the second time in two months, I had the pleasure of hearing Rudresh Mahanthappa's Bird Calls (Absopure Waterfront Stage), an ensemble of very talented, often outside-the-limelight artists like Francois Moutin on bass and workhorse Rudy Royston on drums, along with rising star pianist Matt Mitchell and the very young star of the future, trumpeter Adam O'Farrill. Much of their set came from the acclaimed album, Bird Calls, inspired by but not an imitation of Charlie Parker. In fact, altoist  Mahanthappa would seem to owe as much to Coltrane as to Bird.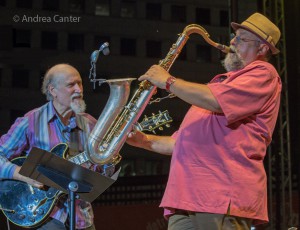 Among his multiple ensembles, trumpeter Dave Douglas seems most at home with his quintet– with Jon Irabagon on sax, Matt Mitchell on piano, Linda Oh (again!) on bass and Rudy Royston on drums (Sunday, Pyramid Stage). Their set included some new music, soon to be released on the quintet's forthcoming album. The pairing of Dave and Jon provides sonic thrills, while Matt is fast becoming one of the most intriguing pianists in modern jazz. Closing down Carhartt on Sunday night was a reunion of sorts, a reconvening of the John Scofield-Joe Lovano Quartet, here with Ben Street on bass and Kobie Watkins on drums. Each of these musicians presents visual as well as aural excitement; the set included a number of Lovano compositions as well as Scofield's hommage to Ornette, "Ten Row."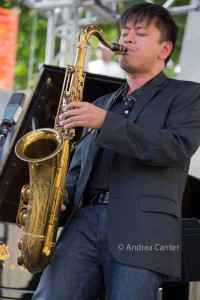 Monday brought alto sax giant Greg Osby to the Pyramid Stage with drummer Will Calhoun's quartet, featuring 20-year-old bassist Darryl Johns and veteran keyboardist Marc Cary. The generally over-presented "Afro Blue" proved to be filled with new messages. The 2008 Monk Sax Competition winner Jon Irabagon, earlier with Dave Douglas, showed himself to be an accomplished leader as well as sideman, bringing his quartet (and compositions) to the Pyramid Stage, with Manuel Valera on piano, Yosushi Nakamura on bass, and the hardest working musician at the festival, Rudy Royston on drums.
Keys. If you look at the list of sidemen, it was a festival filled with keyboard giants, from Barry Harris performing with the Big Phat Band's salute to Benny Goodman to Matt Mitchell with Dave Douglas and Rudresh Mahanthappa to Frank Kimbrough with the Maria Schneider Orchestra. But also in the spotlight as leaders were some younger keyboard artists, including Havana native Manuel Valera with his Groove Square (Saturday, Pyramid Stage), and Mack Avenue's Aaron Diehl (Sunday, Absopure Waterfront Stage).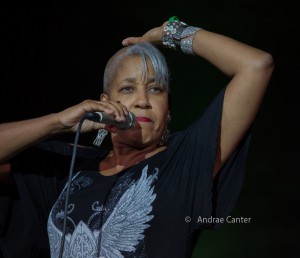 Sing, Sing, Sing. Not just the title of Benny Goodman's tune, heard from several bands throughout the weekend, this was also a relatively minor theme of the festival but one carried out by two very dynamic women. Rene Marie (Saturday, Pyramid Stage) brought her salute to Etta James, I Want to Be Evil, to dramatic life. She was indeed evil, but also playful, sultry, over the top at times but entertaining and in fine voice. Another personal and surprise highlight was singer/songwriter Carmen Lundy (Monday, Carthartt), appearing with a band nearly as dramatic as Lundy herself, with Patrice Rushen, Kenny Davis, Andrew Renfroe and 2012 Monk drum competition winner Jamison Ross. If Lundy has a soul sister, it's Bettye Lavette, both seriously emotive singers who practically dance on stage.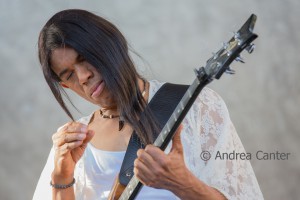 In a class by himself. At risk of upstaging the Artist in Residence, eclectic guitarist Stanley Jordan went solo in Detroit (Saturday, Pyramid Stage), finger-tapping technique on full display. And for me, the closing act was the Ron Carter Trio. The bass legend and his cohorts (Donald Vega on piano, Russell Malone on guitar) gave the Carhartt stage its classiest performance, from the elegant bass-directed arrangements to the dark suits and matching yellow ties.
I never quite make it to the end of the festival. By about 6 pm on Monday, I can't absorb one more note. And the sushi at Fishbones, up the street in Greektown, has an overly strong appeal after 3 1/2 days of  jammed walkways, hot concrete, impossible decision-making, and incendiary jazz.
And I can't wait til next year when, I know, I will choose Detroit. (See 2015 Detroit Jazz Fest photo gallery here!)