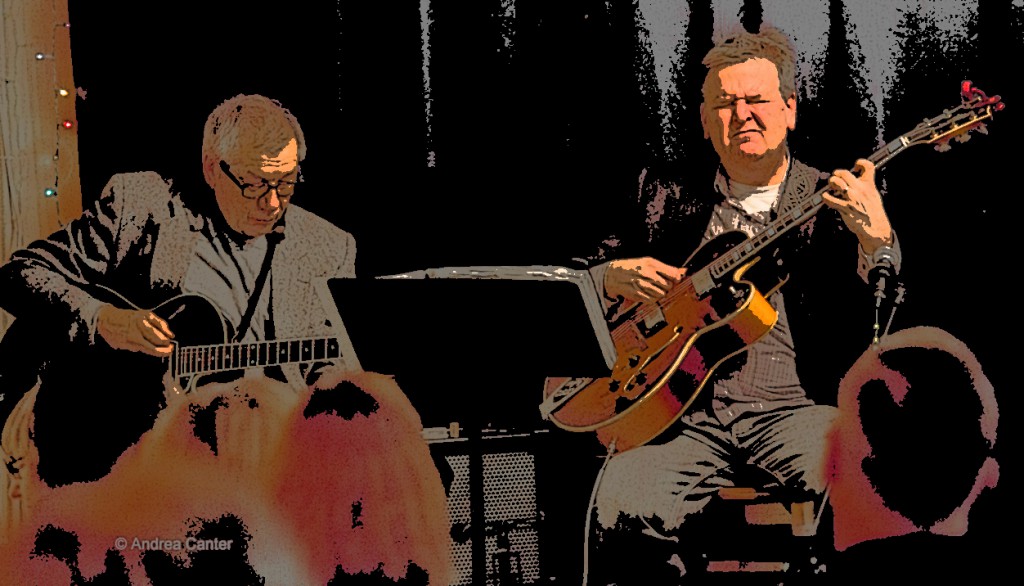 About two years ago, Twin Cities' guitarist Joel Shapira needed a stand-in for his New York-based partner Jack DeSalvo, who was unable to make the trek to Minnesota to celebrate their recording, Inherence. For the CD release gig at the Black Dog, Shapira found a willing "sub" in Minnesota's own guitar guru, Dean Granros. The result was not a duplication of the Shapira-DeSalvo magic, but a new partnership, and a stunning one at that.  Since that night, Shapira and Granros have furthered their collaboration, performing at the Black Dog and recording live at the 2014 Twin Cities Jazz Festival, and returning to the Black Dog a year later for the CD release. Now they find themselves back at the Black Dog, performing the early (7 pm) set on the Saturday Night Jazz at the Black Dog series on August 13 in a reversal of sorts–the veterans open for a quartet of young lions, Hoaxer.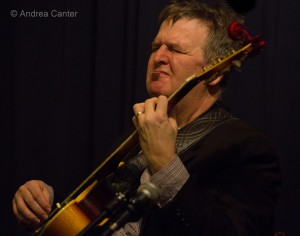 St. Paul native Joel Shapira studied at the Berklee College of Music in Boston and at the Mannes School of  Music in New York City, as well as with Tal Farlow, Joe Pass, Sharon Isbin, and Anthony Cox. Active in the Twin Cities for the past 16  years, he leads his trio and quartet, provides the instrumental half of the popular duo, Charmin (Michelle) and Shapira and coleads their expanded Charmin and Shapira and Friends. He's led the ensembles Triplicate and Pooches Playhouse and frequently appears with Dean Magraw, Pete Whitman, John Devine, Vic Volare, and a who's who list of area vocalists. About a year ago, he launched a quartet dubbed Bottomless Pit with Pete Whitman, Tom Lewis and Eric Kamau Gravatt. Joel's recordings include two releases with Charmin Michelle (Pure Imagination, Dawning and Daylight), his quartet debut (Open Lines),  two albums with Triplicate (Triplicate, Day and Age), and the guitar duos with Jack DeSalvo (Inherence) and Dean Granros (Jazz Duets).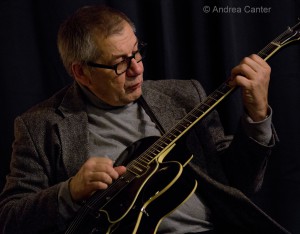 Dean Granros studied music theory and composition at the University of Minnesota from 1970-1972, and studied composition with John Gessner at MacPhail Center  for Music in 1973. Concurrent with those academic studies, he served a lengthy apprenticeship in jazz and blues, playing nightclubs such as the old Blue Note in North Minneapolis, the Extraordinaire, and the Downtowner. He was a co-founder of one of the Twin Cities seminal experimental jazz groups, The Whole Earth Rainbow Band in 1970, and in 1974 he created and wrote for Lapis, an ensemble dedicated to exploring composition with structured improvisation.
From 1985 through 1993, Dean joined former Weather Report drummer, Eric Kamau Gravatt, in the high energy post-bop band, Kamanari.  He co-founded the progressive and virtuosic improvising trio F*K*G in 1995 with saxophonist Scott Fultz and drummer Dave King. In 2002, he joined George Cartwright's band Curlew, touring the Eastern U.S. and playing the EdgeFest in Ann Arbor, MI; he was featured on Curlew's much lauded 2003 Cuneiform release, Mercury. Also in 2003, Dean began playing Wednesday nights at the Artist Quarter with the exploratory quartet, How Birds Work. Granros continues to perform locally with groups such as Starry Eyed Lovelies (with Mike Lewis, Anthony Cox and Dave King), FKG, and How Birds Work, as well as his new double guitar quartet with Zacc Harris, Chris Bates and Jay Epstein and the new duo with Joel Shapira. His ensemble "AntiGravity" explores new directions in improvisational composition. Over his career, Dean Granros has performed extensively at concert venues like the Walker Art Center and First Avenue, and his music has been featured on MPR, KBEM, and KFAI radio.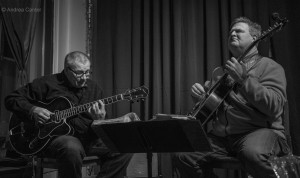 Noted Don Berryman, "Dean Granros is a musical Jekyll and Hyde, mild mannered when he takes the stage and settles into the groove but eventually he will play like a madman taking the music where no sane person would and then makes it beautiful when he gets there."
The Black Dog is located at 308 Prince Street, at the corner of 4th St East and Broadway in St. Paul's Lowertown. Saturday Night Jazz at the Black Dog features Joel Shapira and Dean Granros at 7 pm followed by Hoaxer at 8:30 pm. There is no cover but tips ($10 suggested) are appreciated to support the musicians and the jazz series. Series schedule at www.saturdaynightjazzattheblackdog.info