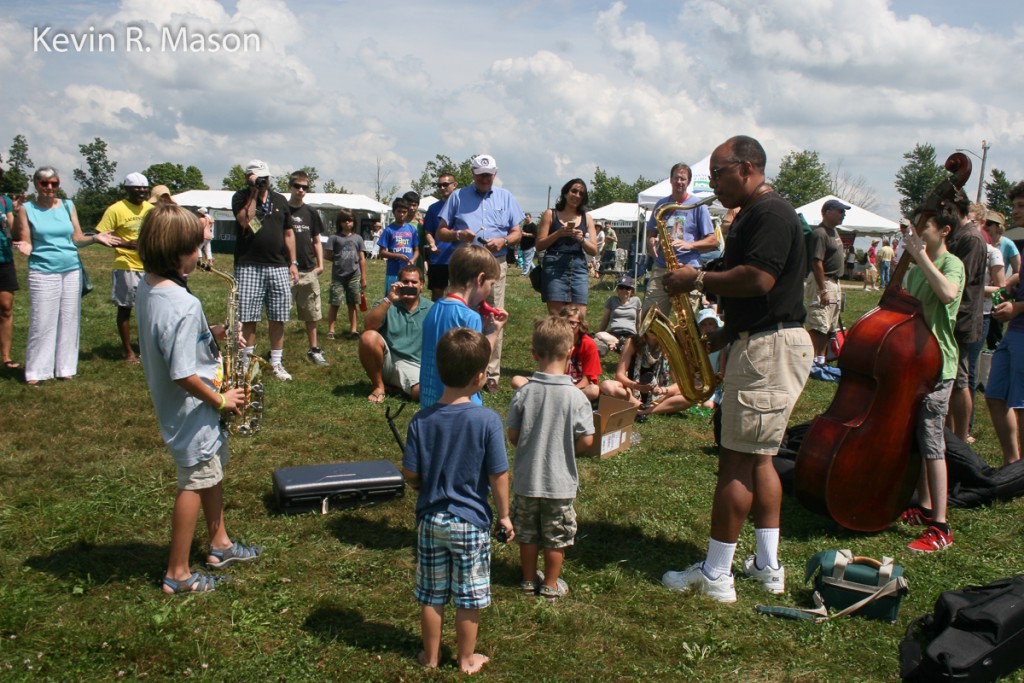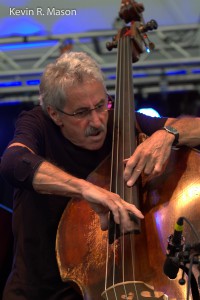 The 21st Litchfield Jazz Festival will be held on Saturday, August 6 and Sunday, August 7, 2016 at the Goshen Fairgrounds in Goshen, CT. This year, the Festival is dedicated to bassist Mario Pavone, who is one of the founding members of the Litchfield Jazz Festival and Litchfield Jazz Camp. Pavone has played pivotal roles over the years as both artist and mentor. Fittingly, the theme of the 2016 Festival is "Generations of Jazz," and there will be a number of collaborations among musicians of all ages.
2016 Festival Line-Up
Saturday, August 6
12:00 Noon: Andrew Hadro Quartet w/Tony Malaby & Mario Pavone
1:45 pm:  Richie Barshay Trio w/Jimmy Greene
3:30 pm: Albert Rivera "Back At It" Band w/Paul Bollenback
4:45 pm: Nicole Zuraitis Quintet w/Dave Stryker
7:30 pm: Daryl Johns Trio w/Orrin Evans, "Saluting Erroll Garner's Concert By The Sea"
10:00 pm: Saturday Night After Party & Jam at Crowne Plaza Southbury Hotel
Sunday, August 7
10:30 am to 12:00 Noon: Friends of the Festival Scat & Scramble Jazz Brunch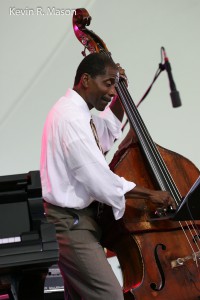 12:30 pm: Big Bass Blowout w/Avery Sharpe & Matt Wilson
2:15 pm: Litchfield Jazz Orchestra w/Don Braden, "Earth Wind & Wonder"
4:45 pm: Emmet Cohen Trio w/Jimmy Heath
6:15 pm Curtis Brothers Trio w/Donald Harrison
Friends of the Festival Scat & Scramble Jazz Brunch
For the first time, the Litchfield Jazz Festival will hold the "Friends of the Festival Scat & Scramble Jazz Brunch" on Sunday, August 7, at 10:30 am. This special event is a fundraising benefit for the Litchfield Jazz Camp, and it is particularly important, since each year, one-third of the Jazz Campers are awarded need-based scholarships. This party is a reinvention of the traditional Friday evening Festival Gala, which Executive Director Vita West Muir felt was in need of an update. The Scat & Scramble will feature delicious Southern-style food by Festival favorite O'Deen's BBQ of Ridgefield, Brother Thelonious Ale from North Coast Brewing Co., private reserve wines by Vandoren Vineyards, and a silent auction. New Orleans musician Donald Harrison, aka "The King of Nouveau Swing," will lead a group of the top Jazz Campers playing music from "The Big Easy." Entrance to the Scat & Scramble is included with all Best Friends, Sunday Friends, and VIP tickets.
Litchfield Jazz Camp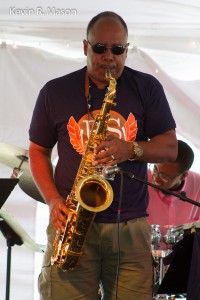 This year is the 20th Anniversary of the Festival's educational arm, the Litchfield Jazz Camp, which offers one to four-week sessions for residential and day students at Canterbury School in New Milford, CT, culminating in participation at the Litchfield Jazz Festival. Every year, the Jazz Camp students have their own tent, and play sets between the Main Stage acts. This year, some of the Jazz Campers will get extra exposure. On the website it says, "We have selected a roster of ultra-talented young musicians, players who have been a part of Litchfield Jazz Camp, to grace our Main Stage alongside mentors who helped them grow as musicians. Some of these pairings will surprise you. All will delight you. Let's rejoice together in 20 years of growing the future of jazz!"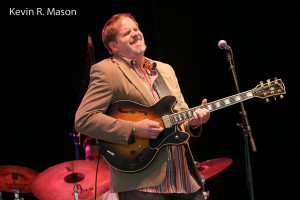 Litchfield Jazz Camp has had many accomplished Teaching Artists over the years. This year, the faculty includes Music Director Don Braden, Operations Director Albert Rivera, Mario Pavone, Avery Sharpe, Steve Johns, Matt Wilson, Claire Daly, Paul Bollenback, Nicole Zuraitis, Claudio Roditi, Carmen Staaf, Dave Stryker, Dave Ballou, and Gary Smulyan, just to name a few.  The Festival website sums up the Jazz Camp experience as follows: "At Litchfield Jazz Camp we focus on musical and personal growth, while fostering a creative, inspirational and relaxed atmosphere.  You learn in combos with players at your own level, regardless of age.  LJC is a non-competitive program and students are enrolled on a first-come basis with no audition required for admission.  When you arrive you are evaluated and then placed in a skill-matched combo.  Students at the Litchfield Jazz Camp range in age from 12 to adult. Proficiency levels vary, and special effort is made to assign students to combos that are both comfortable and challenging. Students hail from 69 Connecticut towns and cities, 18 states and as far away as Argentina. Many of our students go on to first-rate music programs at institutions like New England Conservatory of Music, New School, Berklee, and others, many receiving full scholarships. Our alums are already on tour with Herbie Hancock, Eddie Allen, Winard Harper, Gary Burton, Donald Harrison and many return as teaching assistants and junior faculty members to give back to a program that made such an impact on their lives."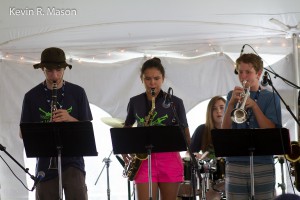 There is also a focus on a positive lifestyle, with the Jazz & Fitness Program that allows students to sign up for swimming, soccer, running, a morning "boot camp," yoga, and more. The goal is to inspire the students in every aspect of their lives, in a healthy, collaborative, supportive, and fun atmosphere.
Artist Talks
Every summer, Litchfield Jazz Festival presents Artist Talks, where Festival stars discuss everything from their inspirations and struggles, to their performing experiences, and take questions from the audience in an open-forum format. This year, DownBeat Publisher Frank Alkyer will host Artist Talks on both Saturday, August 6 and Sunday, August 7 at the Student Tent Stage, with guest artists to be announced.
Art & Food
Litchfield Jazz Festival always offers a wonderful, diverse selection of art, jewelry, and collectibles for sale. Longtime friend of the Festival, artist Danielle Mailer will be designing the official Litchfield Jazz Festival T-shirt this year, as well as having a vendor booth. Artist Chris Osborne, widely known for her unique and exquisitely detailed portraits of jazz musicians, including Tony Bennett, Dave Brubeck, and many others, will also have a booth at the Festival. Other artists and craft artisans include Carnelian Knoll, Denur Crafts, Betsy Gentile Designs, Toucan Hats, Great Paper Caper, Jessica Designs, Rolling Rock Salt, Gemini Dreams, Vermont Stoneworks, Chestnut Woodworking & Antique Flooring, Mindscape Industries, Riverstone, Some Kind of Art, Whimsical Metal Sculpture, Women's Peace Collection, Colebrook Book Barn, and Body Echo & Nicole Duda.
The array of delicious food vendors includes AJ's Steak & Pizza, The Chicken Smells Good, Simply Fresh, Noujaim's Specialty Foods, Shearwater Organic Coffee Roasters, and Ben & Jerry's.

Sponsors
Sponsorship is important to any jazz festival, and some of the essential sponsors of the 2016 Litchfield Jazz Festival are: New England Foundation for the Arts, Connecticut Community Foundation, DownBeat Magazine, The Les Paul Foundation, Kelley Transit Company, JP Morgan Chase, Classical Tents, Haney & Sons Master Tea Blenders, Torrington Savings Bank, WSHU Public Radio Group, robinhoodradio.com, Steinway & Sons, Telfunken, RS Berkeley, Master Brands, Vandoren Paris, RepublicanAmerican Newspaper, TransGate Solutions, and Crystal Rock.
For more information on events, tickets, or travel, go to www.litchfieldfjazzfest.com