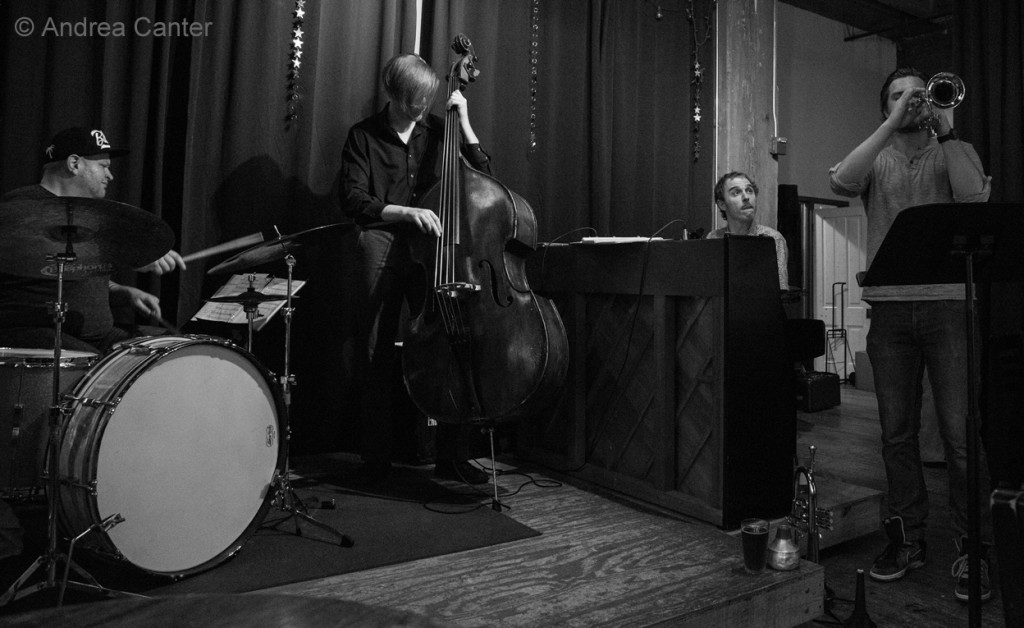 Steve Kenny's Saturday Night Jazz at the Black Dog Series is approaching its second anniversary, the weekly double-header continues to bring both new talents and veteran stars to the stage. This weekend (July 16), the Midwest Coast Quintet opens for the Graydon Peterson Quartet + 1.
The Midwest Coast Quintet is a recently formed group of musicians dedicated to playing jazz standards and original music.  Originally from the Twin Cities, North Dakota, and Ohio, the musicians met through jazz jam sessions around the area and while playing in an indie rock band–The Midwest Coast.
The quintet includes leader and trumpeter John Schreier, graduate of North Dakota State University who worked for Royal Caribbean and Carnival Cruise Lines; saxophonist Mike Bartunek, also an alum of North Dakota State and Carnival Cruise Lines, currently teaching band and jazz band at St. Michael-Albertville High School; Perpich Arts High School alum Cole Mahlum (guitar), who keeps busy in an eclectic array of ensembles in the Twin Cities; Lawrence Conservatory graduate, bassist Gus Murphy, who earned his degree in trombone performance and plays both instruments as well as performing stand-up comedy in the Twin Cities;  and drummer Jesse Meyers, a graduate of the University of Massachusetts who was previously active on the New England jazz scene and will start studies toward a Master's Degree at the University of North Texas this fall.
Graydon Peterson Quartet + 1 (8:30 pm)
Long a sideman with the best in town and as well as visiting artists, bassist Graydon Peterson plunged into bandleading himself about three years ago with his Graydon Peterson Quartet. Focusing on original music that stretches the boundaries of "jazz," the GPQ (Adam Meckler, Joe Strachan, and Adrian Suarez) will perform new compositions inspired by Graydon's recent trips to Cuba. Adding Cuban percussion will be Andrew Gillespie on congas and timbales.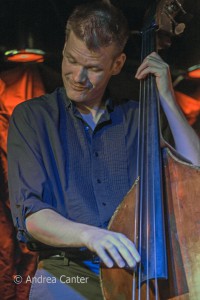 Graydon Peterson played electric bass in his high school pep band and dabbled in rock music in his spare time. The school's jazz director saw him play, and encouraged him to join the jazz band. Soon he earned a spot in the All-State Jazz Band, and his musical aspirations solidified. Next, Graydon enrolled at the University of Wisconsin-Eau Claire where he was a member of UWEC's Downbeat Award-winning Jazz Ensemble I. At UWEC, he performed with such guest jazz artists as Lewis Nash, Ingrid Jensen, Jason Marsalis, Chris Botti, and Christian McBride.  In Minneapolis, Peterson is a first-call bassist who performs regularly with the trio Firebell (with Park Evans and Jay Epstein), Adam Meckler Quintet and Orchestra, Charanga Tropical, and a variety of other ensembles, big bands, and vocalists. He's also a frequent accompanist throughout the annual Twin Cities Jazz Festival.
Peterson launched his quartet in fall 2011 at the Shanghai Bistro in Hudson, WI, and has since performed at Jazz Central, the Artists Quarter, Amsterdam, Twin Cities Jazz Festival and more. In an interview with Pamela Espeland (Bebopfied), he explained his decision to start his own band: "I wanted to express my creativity in a different way. As a sideman, you play your role. Now that I'm in charge of the band, my name is on the front line, I'm writing the tunes, and it's a different perspective. It feels more open to me." In 2014, Graydon released the quartet's first recording, The Graydon Peterson Quartet, and followed a year later with Duets, featuring all original compositions with each quartet member paired with the others (with Adam Meckler on trumpet, Joe Strachan on piano, Adrian Suarez on drums, and guest Vinnie Rose on guitar).
Graydon visited Cuba twice during the past year, with Doug Little's Charanga Tropical and again with Francisco Mela at the Havana Jazz Festival, inspiring many of the compositions we will hear at the Black Dog.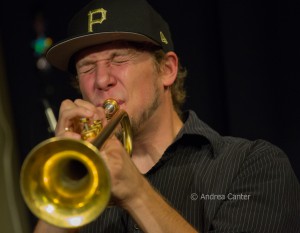 Trumpeter Adam Meckler holds degrees from the Lawrence Conservatory and U of M. One of the busiest musicians in the Twin Cities, he leads his quintet and Adam Meckler Orchestra; performing with the Pete Whitman X-Tet, Jack Brass Band, Youngblood Brass, Nooky Jones, and wife Jana Nyberg's ensemble in addition to the GPQ and more; and teaching at the MacPhail Center for Music. He released his debut recording, For Dad, in 2010; in 2014, the AMO released When Clouds Look Like This. In late summer 2015, Adam brought his quintet to three club venues for live recording sessions, yielding a new album released in spring 2016.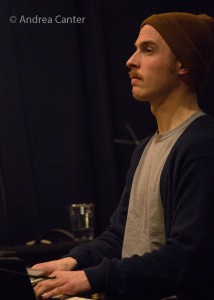 Pianist Joe Strachan is a 2013 graduate of the University of Minnesota and former student of Laura Caviani and Bryan Nichols. Keeping busy on the local jazz scene, Joe performs with the Adam Meckler Orchestra, Courageous Endeavors, Pete Whitman X-Tet and Charanga Tropical, as well as other projects with Graydon Peterson and in a trio with Chris Bates and Matt Buckner. He also provides piano accompaniment for the U of M School of Dance.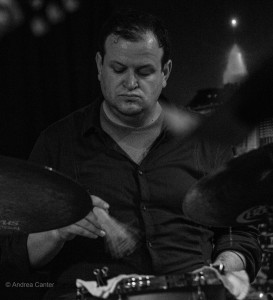 Another UWEC graduate (Classical Percussion Performance), drummer Adrian Suarez also attended the University of Northern Iowa and Lawrence University. He received the Downbeat student award for Best Drum Performance in 2001, and performed in the U.S. All-Collegiate Honors Jazz Ensemble in Washington, D.C., under the direction of Arturo Sandoval. Adrian's music resume includes These Modern Socks, Vicious Vicious, Haley Bonar, Richard Johnson, and Triosé, and currently performs with the Adam Meckler Orchestra, Ghost Tour, and trio Liz (with Jeremy Ylvisaker and Michael Lewis), as well as the Graydon Peterson Quartet. A producer, graphic designer and sound engineer, Adrian founded the web and design studio Soire Design, and also finds time to teach private students at the university level.
Percussionist Andrew Gillespie is accomplished in Cuban, Brazilian and New Orleans traditions. He grew up in Minneapolis, spent a year studying in Brazil, and earned a degree combining music, Latin American studies, and Portuguese at the University of Miami and the University of Minnesota; he also studied at the University of Puerto Rico. He's traveled extensively in Cuba and Europe and immersed himself in the music of New Orleans, playing locally with Jack Brass Band and Mama Digdown's Brass Band. Since relocating to New York City in 2010, Andrew has been playing in several New Orleans style brass bands, various neo-soul and funk groups.  He has also maintained and active world music career, playing timbales and conga with various salsa groups and pandeiro and other percussion with Brazilian ensembles. He continues his affiliation with Charanga Tropical.
Saturday Night Jazz at the Black Dog takes place every week at 308 Prince Street, in the newly expanded Black Dog Coffee and Wine Bar on the street level of the Northern Warehouse in Lowertown St. Paul. No cover but tips ($10 suggested) are appreciated to support the musicians and the jazz series; www.saturdaynightjazzattheblackdog.info