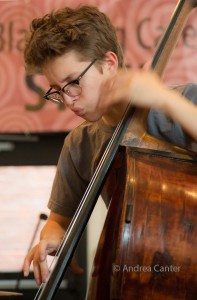 For the third summer, trumpeter/jazz impresario Steve Kenny is producing the All Originals Jazz series at Studio Z in Lowertown, St Paul. Scheduled for a handful of Friday nights July-September, the series features area musicians performing original compositions. On Friday, July 8, Hoaxer–young bassist/composer Charlie Lincoln and pals–performs at 8 pm, playing compositions from Charlie and band members Peter Goggin, Will Kjeer and Edmund Catlin. All are currently studying jazz in college programs. Hoaxer has performed at Jazz Central and at the Black Dog during the recent Twin Cities Jazz Festival.
Charlie Lincoln recently completed his first year of jazz studies at the Berklee College of Music in Boston. A South High alum, Charlie was already a busy gigging musician before graduation, playing with the Dakota Combo, Central Standard Time, the Charles Lincoln Group, and subbing with Eric Gravatt's Source Code. In his senior year, Charlie was selected as one of two winning youth songwriters in the Eric Stokes Songwriting Contest and was on stage for the Young Performers Showcase for the Zeitgeist New Music Cabaret. While on vacation from Berklee this summer, Charlie is serving as a curator for a monthly new music series at Jazz Central Studios as well as performing with a number of area bands. He performed with the Dave Brattain Trio as well as with Hoaxer during the 2016 Twin Cities Jazz Festival.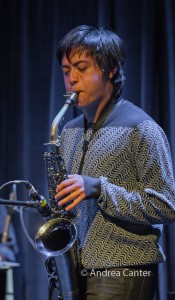 Peter Goggin graduated from Mounds View High School and is studying saxophone at the University of Michigan. In addition to Hoaxer, he has performed in other ensembles at Jazz Central and during the Twin Cities Jazz Festival. Peter was a three-year member of the Dakota Combo.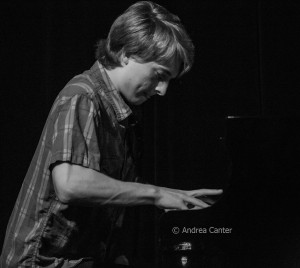 Pianist Will Kjeer performed for two years with the Dakota Combo, attended the post-high school program at Interlochen Arts Academy, and spent a year studying jazz piano at Cal Arts. He is now heading to the jazz program at McGill University in Montreal. Will has led bands around town since his mid-teens and is an original member of Steve Kenny's Group 47. He'll lead an ensemble on the next All Originals series (July 29).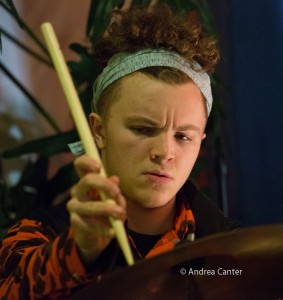 A graduate of St Paul Central High School, drummer Edmund Catlin attends McGill University in Montreal. During his summer break, he is curating a biweekly Friday night series at Jazz Central performing entire albums by Thelonious Monk. He's also been an active member of the PipJazz Youth program.
All Originals Jazz takes place at Studio Z, 275 E. 4th Street in St Paul's Lowertown. Tickets $10 online (http://www.studiozstpaul.com/all-originals-070816.html) or at the door.