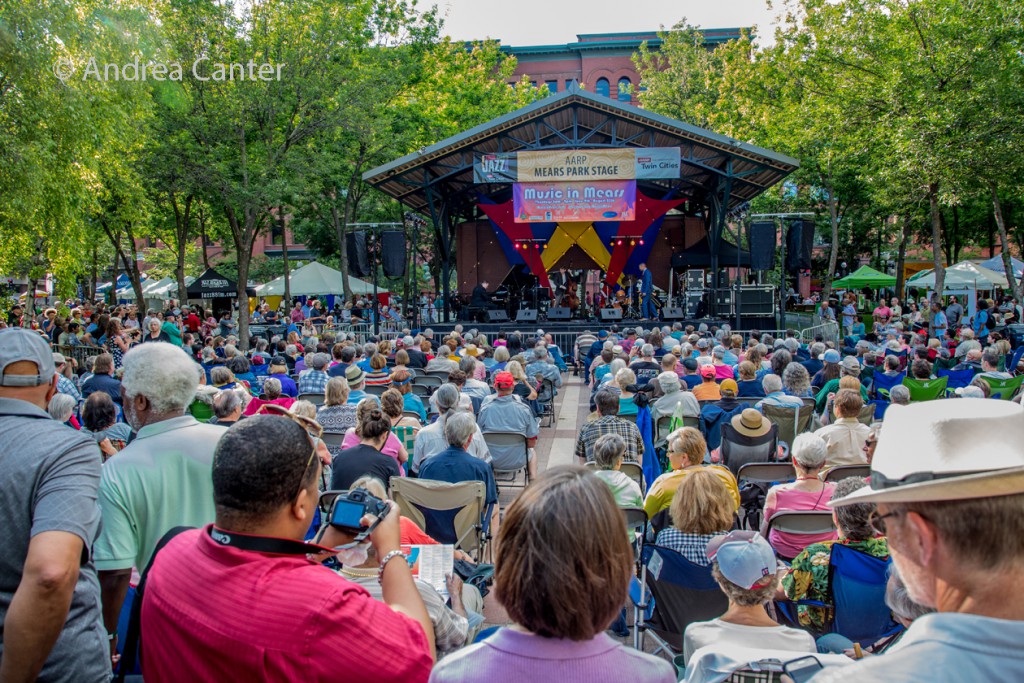 Back in 1998, it was the little festival that could, and the Twin Cities Jazz Festival (aka Hot Summer Jazz Festival) kept gaining momentum, eventually outgrowing downtown Minneapolis and spreading over into Lowertown St. Paul.  Then, in 2009, it seemed like the festival had run its course as financial and community support in downtown Minneapolis faded. Enter St. Paul Mayor Chris Coleman. Exit Minneapolis. The festival, like the Phoenix, rose again, putting down firm roots in Mears Park in Lowertown and slowly spreading throughout the neighborhood and into the heart of downtown St. Paul.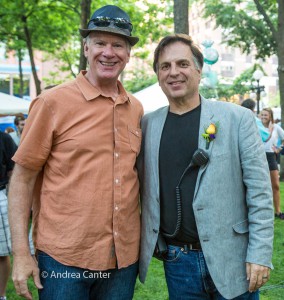 Each year the festival grows  in attendees and venues, adding the new CHS Field with Dr. John in 2015, and a new Kellogg Park stage with Michael Franti in 2016.  By my unscientific calculations, attendance was well over 30,000 last weekend (June 23-25), with the Kellogg Park Stage drawing  at least double the numbers expected while, simultaneously, Mears Park was close to capacity. A lot of people, from young children to seniors, heard a wide range of jazz and beyond; a lot of musicians, from middle schoolers to veterans in their 80s, performed on outdoor stages and in indoor clubs and bars. Even the weather cooperated despite some threatening skies on Saturday — one of the few festivals in memory with absolutely no rain.  For Executive Director Steve Heckler and Artistic Director Francisco Mela, the annual Twin Cities Jazz Festival was as successful as any in its 18-year history, not only drawing the largest audience, but by all informal reports, delivering the most exciting music. Headliners Delfeayo Marsalis, Ellis Marsalis, Joey Alexander, Russell Malone, John Pizzarelli and Michael Franti easily lived up to their billing, and then some.
Highlights are invariably subjective, and limited to what one individual can attend and assimilate over three days of nonstop music. Nevertheless, here are some of the highlights of the 2016 festival, based on first-hand observation and second-hand conversation.
Headliners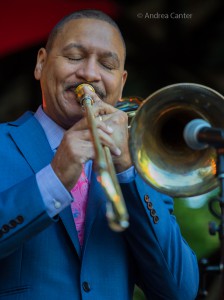 Delfeayo Marsalis Quartet (Thursday). Trombone-wielding middle brother of the clan of NEA Jazz Masters, Delfeayo made a return visit to the festival, having appeared with his octet a few years ago. This time he teamed up with Artistic Director Francisco Mela on drums, festival "house pianist" Jon Weber, and frequent fest bassist Graydon Peterson. If the set had been limited to just this foursome, it would have easily been a winner. But Marsalis injected some additional excitement, bringing on local trumpet star Solomon Parham and too-rarely heard multi-reedman, Douglas Ewart. (Ewart continues his strong connections with the AACM in Chicago — he should be heard more often in his current town of residence!) And for an encore? No better way to end the set than a duet with dad Ellis Marsalis, in town for his set the next night. "Do You Know What It Means to Miss New Orleans" could not have better interpreters.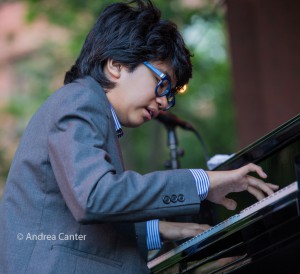 Joey Alexander Trio (Thursday).  Better believe the hype. It's not hype at all.  Making his Twin Cities debut a few days shy of his 13th birthday, this piano phenom from Bali had a lot to live up to–two Grammy nominations for his first recording, two appearances on 60 Minutes, performing at the White House on International Jazz Day, appearing at major jazz festivals from Newport to Monterey. I'd listened to his album (My Favorite Things) for days on end leading up to the festival, not really believing my ears. To refer to Joey as a "child prodigy" is totally inadequate. He's a rare, perhaps singular talent that already exceeds that of most veteran musicians. Largely self taught, he already seems to have absorbed the jazz vocabulary of the genre's entire history. His talent is far beyond technical skill (of which he has plenty) but encompasses a feel and fluency for improvisation that should take decades to develop–he's been playing piano for a mere six years.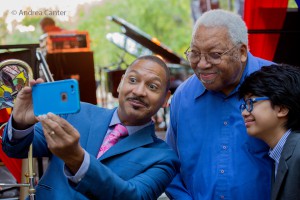 Joey's set –with superb backing from bassist Dan Chmielinski  and acclaimed drummer Ulyssies Owens–began with a birthday gift of a Vikings jersey sporting number 13. Joey acknowledged the applause and jumped into his arrangement of "Giant Steps", which also leads off his album. From there he was everything a seasoned headliner should be — dazzling, engaging, clever, wide-ranging in tempo, rhythm and emotion… and even more exciting than his recording. If there was any doubt, that recording was not a feat of engineering. It was Joey. Listen for his second album, due out in September.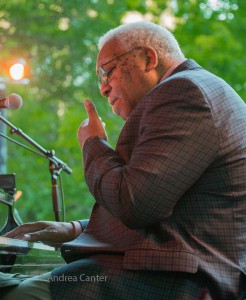 Ellis Marsalis Quartet (Friday). By the time the Marsalis patriarch took the stage Friday night, he had already been applauded for his encore appearance with son Delfeayo the night before, delivered a clinic at McNally Smith, and posed for umpteen selfies and candids with musicians and fans. He quietly seemed to enjoy his celebrity status. The elder Marsalis plays the piano as I suspect he does everything in life– with grace and elegance, often yielding the momentum to one of his young cohorts, particularly saxophonist Derek Douget who brought Crescent City swing and fire to every solo; Jason Stewart (bass) and Stephen Gordon (drums) were easily up to the task of supporting a grand master.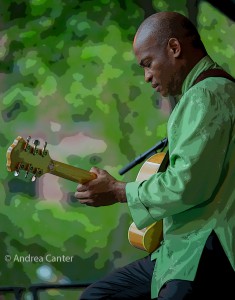 Russell Malone Quartet (Saturday). Saturday was a feast for fans of mainstream jazz guitar, starting with fleet-fingered Russell Malone who brought in a quartet of star performers. What a pleasure to have pianist Rick Germanson back in town! Germanson was a favorite visitor to the Artists Quarter and was on stage for several AQ New Year's Eve parties; in addition to Malone, he still tours with Louis Hayes. Another standout with Malone was drummer Willie Jones III, not only one of the most sought-after drummers on the scene but making his mark as a producer as well. Canadian bassist Luke Sellick filled out this hard swinging ensemble that seemed to chase away the storm clouds, yielding an evening of agile improvisation that allowed not only Malone, but each of his cohorts, ample moments in the sunlight.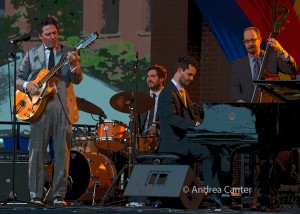 John Pizzarelli Quartet (Saturday). John Pizzarelli is a second generation guitarist and entertainer, picking up the guitar from dad Bucky Pizzarelli, adding warm vocals, and now adding radio personality to his vita, cohosting Radio Deluxe with wife Jessica Molaskey on National Public Radio. Anyone who came to Mears Park unfamiliar with Pizzarelli left well versed in his artistic talents and wide-ranging repertoire, covering a gamut of favorite covers from Ellington's fast swinging "In a Mellow Tone" to tunes from his new Paul McCartney album to the all-too-timely Rodgers and Hammerstein commentary, "You Have to Be Carefully Taught." A frequent performer at the Dakota, Pizzarelli arrived with a new band since his last appearance, with Konrad Paszkudzki on piano, ? on bass and Kevin Kanner on drums. St. Paul city ordinance calls for all park events to shut down at 10 pm — Pizzarelli held the stage til 9:59. Or was it 10:01?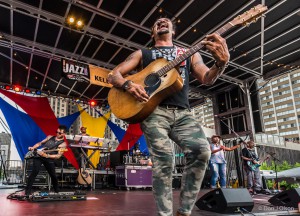 Michael Franti and Spearhead (Saturday). It was obvious that if you were in Mears Park for Malone and Pizzarelli, you would not be in Kellogg Park for Michael Franti and Spearhead. I was at Mears Park.  But at least 5,000 were at the intersection of Minnesota Street and Kellogg Blvd having what was, by all accounts, a blast! Photos verify the overflow crowd, the high energy of the performers, the feel of a party. In short, it was everything Steve Heckler hoped it would be–an opportunity to bring in a new audience that might not otherwise be attracted to a jazz festival, a night of not only great music but high entertainment. I don't know if Franti's show prompted greater attendance at other festival venues before or after.  But at least for the duration of this set, it was one of the festival's hottest hours.
Local Heroes (and Heroines)
All major jazz festivals present the best and brightest among national and international artists, and more and more, also present artists well outside any definition of "jazz." And usually there are opportunities for local and regional artists of all ages. One of the unique aspects of the Twin Cities festival is the preponderance of local artists spread across about 20 indoor venues as well as appearing on the outdoor stages; the vast majority of music during the festival comes from homegrown talents, many of whom have often shared the stage with the artists designated as headliners, here and elsewhere. The attraction of the Twin Cities festival might be those headliners, but the heart of the festival is our own jazz scene.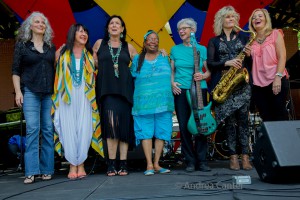 After pondering the idea for several years, and prompted by an invitation from Steve Heckler, vocalist/broadcaster Patty Peterson assemblede the first edition of the Jazz Women All Stars. Women singers, noted Patty, have been widely presented at this festival, but not so women instrumentalists, and there have been few if any all-women ensembles on our festival stages despite the abundance of talent among local women artists. "It's time for the women to own it," said Patty. Own it they did — Mary Louise Knutson (piano), Joan Griffith (bass and guitar), Sheila Earley (drums), Mary Petrick (saxophones), Linda Peterson (piano and vocals), Debbie Duncan (vocals), and Patty herself (vocals) opened the AARP Main Stage at Mears Park on Friday afternoon, and left no doubt as to the power of their music, from jazz standards to originals from Mary Louise and Linda, from tunes featuring one talent to a blazing finale with all on stage. The audience reaction sealed the deal– this will become an annual festival event.
Two years ago, the Adam Meckler Orchestra was washed out of their final evening set on the main stage; this year, despite a worrisome forecast, the AMO got a second chance in Mears Park, and the weather cooperated. Minnesota's answer to the Maria Schneider Orchestra, this band features some of the brightest, largely young talents from the Twin Cities performing Meckler's original music, filled with interesting harmonies, catchy themes, marvelous soloists, and Meckler himself, one of the area lions of trumpet and flugelhorn. The set included some of the highlights of their debut release, When Clouds Look Like This, as well as some new material.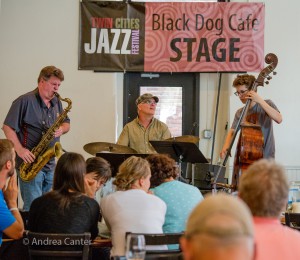 Steve Kenny, a force to be reckoned with on trumpet, has become one of the key curators of jazz in the Twin Cities since launching Saturday Night Jazz at the Black Dog in fall 2014, Friday Night Jazz at The Nicollet (now relaunched as Thursday Night Jazz at Reverie), and now a second summer of All Originals at Studio Z. And now he's curating a three-night series of modern jazz ensembles at the Black Dog throughout jazzfest. Imagine 12 bands from his Black Dog line-up, one after the other on the newly renovated Black Dog stage– or two stages, as some sets were played in the expanded bar, some in the new kitchen/cafe space. Chris Bates' Red 5 expanded to six, playing original music on the bar side; Dave Brattain hosted a trio with Mac Santiago on drums and young Charlie Lincoln on bass (one of 5 festival appearances by Charlie); Adam Linz's Le Percheron had a rare set outside of their Khyber Pass home base; Mississippi (Pete Whitman, Peter Schimke, Jeff Bailey, Kevin Washington) packed the cafe' –actually the rooms were packed for most of the sets at the Black Dog.
Special note regarding the number of youth ensembles involved in this year's festival. Walker West Music Academy has a long history with the festival, annually presenting one or more of their jazz combos as the Saturday opening set on the main stage at Mears Park, and this year's band was an outstanding group of high school students led by Felix James. The Dakota Foundation for Jazz Education has sponsored a youth stage or youth showcase for the past 8+ years, most recently on the Union Depot Stage on Saturday afternoon. This year's line-up included six bands–two from area jazz camps (Joe's Jazz Camp in St Paul, Jazz Around Minneapolis from the Minneapolis Schools summer program), an award-winning combo from Roseville Area High School, an Apple Valley jazz ensemble, the Iowa Jazz Ambassadors (high school and recent graduates from the Iowa City area), and the annual festival appearance by the Dakota Combo. The performances were strong, ensuring a promising future for jazz in the metro area.
A new program at McNally Smith, the Vocal Jazz Honors Ensemble, serves talented high school vocalists selected through audition. This was their first festival appearance, at the Bedlam, and given the reviews I've heard, it will not be their last! Also at the Bedlam, Pippi Ardennia directed her latest edition of the PipJazz Youth Ensemble, mostly recent high school grads performing with Pippi.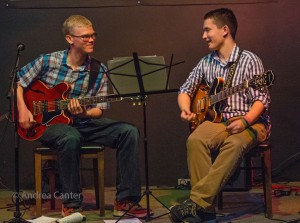 Young talents also appeared as independent ensembles. One of the most impressive self-managed youth groups of the past year has been the Will Schmid-Adam Astrup Guitar Duo, which launched at the Winter Jazz Festival and the guys appeared this time at Golden's Deli, performing some classical jazz tunes with the aplomb of seasoned musicians.
Great local music could be heard far and wide, reminding us that the Twin Cities has one of the top jazz scenes in the country. And it's a scene that has all the ingredients for a top jazz festival–it all came together to make 2016 one of the best Twin Cities Jazz Festivals yet.