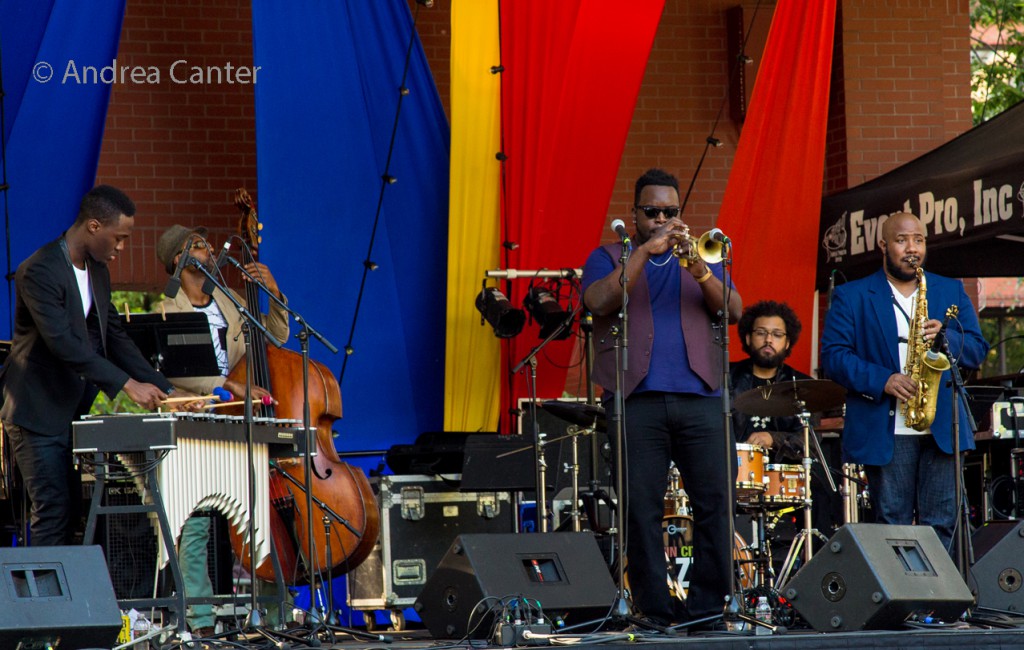 "His articulation, precise but unlabored, calls to mind the precedent of Clifford Brown, while his bravura phrasing suggests an equal immersion in Freddie Hubbard and Woody Shaw." –Jazz Times
The Dakota Jazz Club in downtown Minneapolis hosts the return of rising star trumpeter Marquis Hill and his acclaimed ensemble, the Blacktet, on stage for just one night on June 30.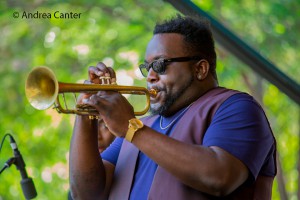 Winner of the "Jazz Trumpet Triple Crown" — 2012 International Trumpet Guild Jazz Improvisation Competition, 2013 Carmine Caruso International Jazz Trumpet Solo Competition and the 2014 Thelonious Monk International Trumpet Competition — Chicago native Marquis Hill began playing drums in fourth grade, but his older cousin's trumpet soon pulled him away from the trapset. In fifth grade, his band teacher gave him a Lee Morgan album, "and had my mind blown," he recalls. The following year, Hill met famed music educator Ronald Carter who ran the South Shore Youth Program as well as directing jazz at Northern Illinois University. The South Shore program paid inner city youth to rehearse daily in a big band and perform weekly concerts. Ultimately Hill was inspired to attend the NIU program, graduating in 2009 with a degree in Music Education. He also participated in the Ravinia Jazz Scholars, where he studied with Bobby Broom, Wilie Pickens and Tito Carrillo. Soon Hill was gigging with the likes of Chicago legends Von Freeman and Fred Anderson.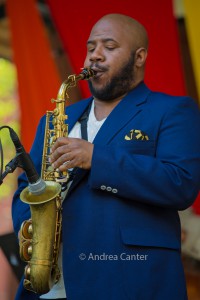 Marquis went on to earn a graduate degree in jazz pedagogy from DePaul University's School of Music, formed his Blacktet and recorded with Milton Suggs, Ernest Dawkins and Matt Ulery. He also became heavily involved in jazz education, teaching at the University of Illinois in Chicago, Harold Washington College, Birch Creek Music Performance Center and the NIU Summer Jazz Camp. Hill performed at the 2012 Twin Cities Jazz Festival and appeared with fellow Chicagoan Christopher McBride's quintet at Eden Prairie High School in spring 2014. He returned to St. Paul for the 2015 Twin Cities Jazz Festival, appearing on the Mears Park main stage with his Blacktet –Christopher McBride (alto sax), Justin Thomas (vibes), Joshua Ramos (bass) and Makaya McCraven (drums).
Since his win in the Monk competition, Hill splits most of his time between Chicago and New York City, giving him access to a wider pool of jazz talents; in addition to the Blacket, he also plays with Marcus Miller and Joe Lovano, among others. Just a few days ago, he released his debut album on Concord, The Way We Play, in the company of the Blacket.  Instead of an album of entirely original material as on his first three releases, Hill reinterprets jazz standards, noting that "I want to pay homage to some of my favorite jazz standards and American songbook classics. These are some of the songs that I came up playing in various jam sessions; these songs really taught me how to play jazz."
Marquis Hill apparently learned his lessons well.
Marquis Hill and his Blacktet perform one set only on June 30, at 7 pm; tickets at 612-332-5299 or www.dakotacooks.com