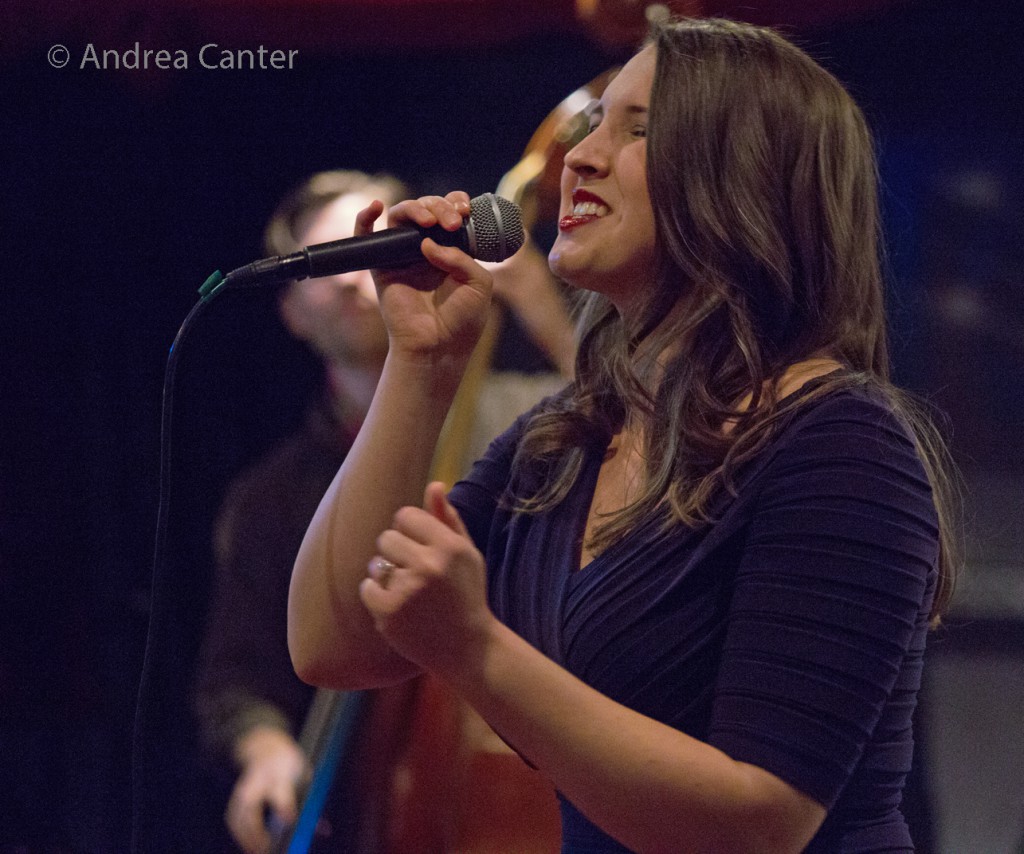 "I want people to know that jazz is alive and well in the new generation, that acoustic music is rich and possible…. that it is possible to create a rich soundscape and vibrant musical experience with just a trio."  –Katia Cardenas
A graduate of Macalester College who grew up in a family of musicians, Katia Cardenas has rather quickly established herself as a capable vocalist and bandleader who can engage and establish a loyal audience across jazz and pop boundaries. She was the first artist booked at Vieux Carré when the club opened a year ago, appears with some regularity at the Dakota, and will co-host a "Scat Off" at the upcoming Twin Cities Jazz Festival. She's also recorded her debut CD, I'll Be Seeing You, set for release at the Icehouse on Wednesday, June 22 (8:30 pm).
Given her early success, Katia could have high expectations for the recording. But she's not concerned with  topping the radio charts or attracting attention from New York critics –she has less lofty, but perhaps more critical goals: "I was really searching for validation with this project… for documentation before moving on," she says. "This is definitely a landmark in my in my career –it's been a long journey to where I am now and I'm proud of it. If I don't make any more CDs, I want people who have heard me in the past and who will hear me in the future to know that this is what I was doing. This is what I was capable of.  And to want to hear more."  It's fair to say that, after hearing Katia's recording, as well as her live performances, people will want to hear more.
Katia Cardenas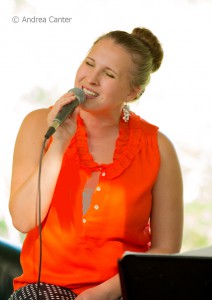 Still in her 20s, Katia Cardenas is a young but veteran vocalist who can cover Ella Fitzgerald and Billie Holiday, yet is equally adept at modern folk/pop/blues. This is no surprise given her background in music since early childhood. Born and raised in the Pacific Northwest, Katia grew up in a musical family. Her mother, Janis Kelly, is an accomplished vocalist and bandleader; her father, Mark Cardenas, is a professional keyboardist and a Platinum and Gold recording artist (Prince, Morris Day and the Time, Janet Jackson).  In junior high, Katia moved to Sacramento, California, where she sang in select choirs, jazz and show choirs, and developed a passion for musical theater. At 16, she attended the Visual and Performing Arts Charter School, where she became deeply involved in music, theater, and dance. At 17, she began gigging with her mother's band, The Groove Ambassadors.
Katia relocated to the Twin Cities in 2006 to attend Macalester College where she sang with The Sirens (female a cappella group), won first place in the Macalester Idol singing competition, sang in a rock and blues quartet, and a co-led an a cappella group, Late Night Menu. After graduating with a major in Psychology and minor in Theater, Katia co-composed and directed an original a cappella musical (Zombie High School), named Best Musical at the 2010 Minnesota Fringe Festival, and began performing in duos and as a featured soloist around the Twin Cities. Specializing in jazz, soul and R&B, and noting key influences as Aretha Franklin, Ella Fitzgerald, Carole King and Eva Cassidy, Katia is a performing member  (and Secretary) of the Twin Cities Cabaret Artists Network, tours nationally with the Casablanca Orchestra,  and appears regularly at The Dakota, Vieux Carré, Crooner's, Jazz Central, and other venues. She is also a board member of Face Forward: Humanity Through Art, a local non-profit that fosters a socially aware artist community through education and collaboration, and an administrative assistant for the Dakota Foundation for Jazz Education.
I'll Be Seeing You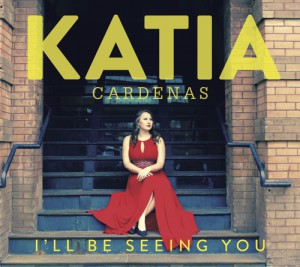 In addition to wanting to document the music she has performed and loved over the past few years, Katia felt she needed a CD in hand, almost like a business card. "I needed a CD to show that I am established, something to bring to live shows because people will ask if you have a recording… I wanted to show that I am able to perform at this level of musicianship." This level includes working with some of the younger, well respected veterans on the Twin Cities jazz scene– pianist and arranger Ted Godbout, bassist Andrew Foreman, and drummer Zach Schmidt.
And more important, Katia wanted to capture the passion she has for her music and document her (ongoing) journey toward developing her own style. She's found it easier to connect with an older audience that's more familiar with the jazz and pop standards in her repertoire, noting that "it's been more challenging selling [this music] to a younger audience."  Including a broader range of music– drawing from more recent pop, soul and R&B tunes–has helped expand her audience at live shows, as has her work on song interpretation with local educators, Vicky Mountain and Sarah M. Greer, and her colleagues in the Twin Cities Cabaret Artists Network– "people who have experience in broad genres."
"Yes, I am young, but this music means something to me," says Katia. "I want to present the music in a way that respects the audience — I want them to hear something thoughtful and creative, so that [the audience] is not just hearing a song but why these lyrics are important to me…I know it's all covers– that's what jazz is!"
Yes, I'll Be Seeing You is all covers, but it's a wide range of tunes nonetheless, from jazz standards to Brazilian classics to American pop hits, from the opening "There Will Never Be Another You" which has been recorded by many from Chet Baker and Count Basie to Julie London and Rosemary Clooney, to the final title track covered by Billie Holiday, Jo Stafford and even Willie Nelson. Other tracks include Irving Berlin's popular "Blue Skies" with Katia's version of Ella Fitzgerald's famous (and long) scat; the double Jobim, bilingual medley of "Agua de Beber" (in Portuguese) and "The Wave" (in English); the dark pop medley of Carole King's "It's Too Late" hinged to Classic IV's "Spooky;" Phil Spector's "Baby I Love You" and Amy Winehouse's "You Know I'm No Good," the only song in this collection first released during Katia's lifetime.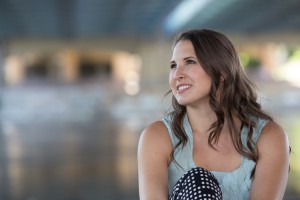 And despite the familiarity of these tracks, there are some bold moves here. Katia doesn't wait long to test her scat wings, jumping head first into improvisation on the first track ("There Will Be Another You") following a sultry first verse with just piano and a swinging, full band run on the second.  And her scatting fits here, not just as an experiment tossed in to test the waters, but a vital part of the arrangement.  "Blue Skies" is even more daring, the Irving Berlin chestnut so widely performed, and Ella Fitzgerald's famed (and long) scat perhaps the gold standard for any improvising vocalist. Katia and the band run the form just once before she launches into her scatted verses. She makes it seem like a natural extension of the storyline, even if a studied effort, and carries the feel into the final lyric.
The sequencing of tunes is thoughtful, placing the voodoo-ish Winehouse "You Know I'm No Good" following the the bright opening, tapping Katia's background in music theater, buoyed by her trio's darkly cool soundtrack. The songbook standard "Blue Skies" is followed by a pop medley of "It's Too Late" and "Spooky," the 60s beat courtesy of Foreman and Schmidt, while Ted Godbout puts some jazz zing into his solo that bridges the two songs. The band shifts into a swaying, still-swinging pace as Katia returns to Carole King at the finish. 60s rock follows naturally in "Baby I Love You."
In another bold move for a debut recording, Katia sings Jobim's "Agua de Beber" in convincing Portuguese before shifting into his "The Wave" in English; the two songs (jointly titled "Mas Agua") fit well together musically as well as conceptually, and the band provides a light bossa rhythm punctuated by Schmidt's rumbles.
The final title track returns to the slow (now wistful) pacing of her first track's opening verse on a song covered by generations of singers including Billie Holiday, Jo Stafford, Frank Sinatra, Ray Charles, and even Willie Nelson. And now Katia Cardenas, who, as on the start of the first track, sings with only Godbout's beautiful backing.
Throughout the album, with her clean articulation, Katia indeed convinces the listener that these songs, these lyrics, are important to her, and should be to the rest of us. While she says that "this [first] CD is not career-defining," it does succeed as a validation of her personal commitment to her music, as a document of her current skill and repertoire, as a launching point for what comes next. And what's next? "Something inspirational. I want the music to be challenging and fun."
No doubt it will be all of the above.
Katia Cardenas celebrates the release of I'll Be Seeing You on June 22 at the Icehouse in Minneapolis (2528 Nicollet Av South), 8:30 pm. Her show will be followed by Jazzoneando, a Latin ensemble warming up for its debut appearance at the Twin Cities Jazz Festival this weekend.  All quotes in this article from interview with Katia Cardenas.