By Don Berryman
Searching In Grenoble: The 1978 Solo Piano Concert is a previously unissued recording of jazz pianist and composer Mal Waldron's mesmerizing solo performance at the "Five Days of Jazz" series in Grenoble, France, on March 23, 1978.
Waldron is most widely known for being Billie Holiday's accompanist for the last few years of her life. But his impact on jazz went well beyond that. As the house pianist and arranger for Prestige Records from the 50's into the 60's Waldron appeared on dozens of albums playing on classic sessions with John Coltrane, Charles Mingus, and Jackie McLean among others. Many of Mal Waldron's  compositions have become jazz standards including "Soul Eyes" which he wrote for John Coltrane. Pianists Benoît Delbecq, Geri Allen, Craig Taborn, Ran Blake, Mathew Shipp, and Ethan Iverson have all acknowledged Waldron's influence.
Waldron suffered a near-fatal drug overdose and collapsed while on-stage with Abby Lincoln and Max Roach in 1963. After that he had a complete breakdown. Waldron couldn't remember his own name. In the hospital he was given a spinal tap and shock treatments. He had to teach himself to play again by listening to his old records and transcribing his own solos. It would be a few years until he recorded again.
After reemerging from his illness what you hear is unmistakably Waldron, but undeniably different, a little darker with dense clusters of left-hand chords and vamps and repeating motifs with slight variations. As Ethan Iverson describes this sound  in On Mal Waldron, "Waldron's best music also has a darker side that's not decipherable in sense-based or spiritual terms.  H. P. Lovecraft's word unnamable might be appropriate. The piano playing seethes and burbles without coming to a climax."
Waldron moved to Europe where this brooding minimalist style was embraced and where his album Free At Last launched the ECM record label. He has dozens of albums but I would count Searching in Grenoble: The 1978 Solo Piano Concert among Waldron's best.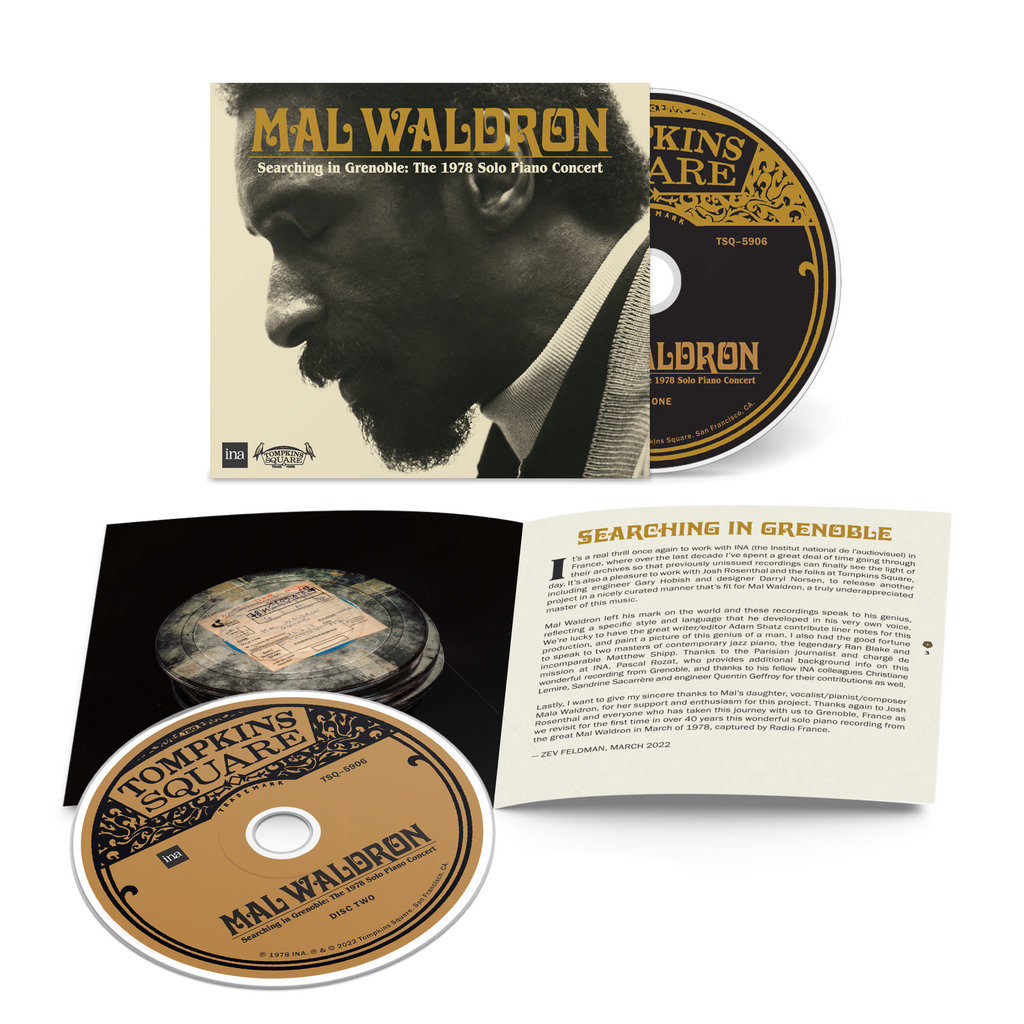 Searching in Grenoble: The 1978 Solo Piano Concert was mastered from the original Radio France tapes, the sound quality is superb. This 2-CD set includes a 24-page booklet with essays by producer/"Jazz Detective" Zev Feldman, journalist Adam Shatz and Pascal Rozat; and interviews with modern jazz pianists Ran Blake and Matthew Shipp.
The first disc opens strongly with "Mistral Breeze / Sieg Haile"  delivering a relentless thundering left-hand assault while his right hand explores melody over the drone. The feeling is that of an impending doom or a gathering storm, the tension builds and dissipates only to build again and again. "Here, There and Everywhere" follows with a faster tempo vamp and an intricate syncopated melodic line weaving in and out. "Russian Melody" evolves gently to a bluesy Chopinesque conclusion. "Petite Gemeaux" has a film noir sound with more hints of tragedy. Waldron's "Fire Waltz" has more movement in the staggering chords as the melody dances over the top."You Don't Know What Love Is" is the only standard on the first disc and is a tune he had played with Billie Holiday. "Soul Eyes" begins with left hand arpeggios and glissandos supporting the melody before moving into dense chords. Waldron's mastery of the piano and the idiom is quite apparent on this tune.
Disc two opens with the standard "It Could Happen To You", which is deconstructed beautifully and completely after the theme is introduced, to be reassembled in conclusion. This is followed by a longer version of "Russian Melody". Following is a very dark and brooding opening to "I Thought About You " that evolves as it goes along to be more playful before returning to melancholy . "Snake Out" is up tempo with a staccato melody over a hammering drone. We can faintly hear Waldrons vocalization along with his melodic lines. "All Alone" closes the set and the brooding somber tone evokes stark loneliness. Like the rest of this concert there is a lot of drama in this performance.
Track list:
Disc: 1
Mistral Breeze / Sieg Haile  23:25
Here, There and Everywhere  10:05
Russian Melody  2:28
Petite Gemeaux  5:34
Fire Waltz  6:37
You Don't Know What Love Is  8:32
Soul Eyes  8:49
Disc: 2
It Could Happen To You  7:34
Russian Melody  6:16
I Thought About You  9:40
Snake Out  7:24
All Alone  6:51
Purchase high quality downloads from Bandcamp: here
This year we have a treasure trove of previously unreleased live recordings by some of the giants of jazz from the 60's and 70's including Ahmad Jamal (read Jazz Police review here), Charles Mingus, (read Jazz Police review here) and Elvin Jones. This is the third of four reviews of those releases.