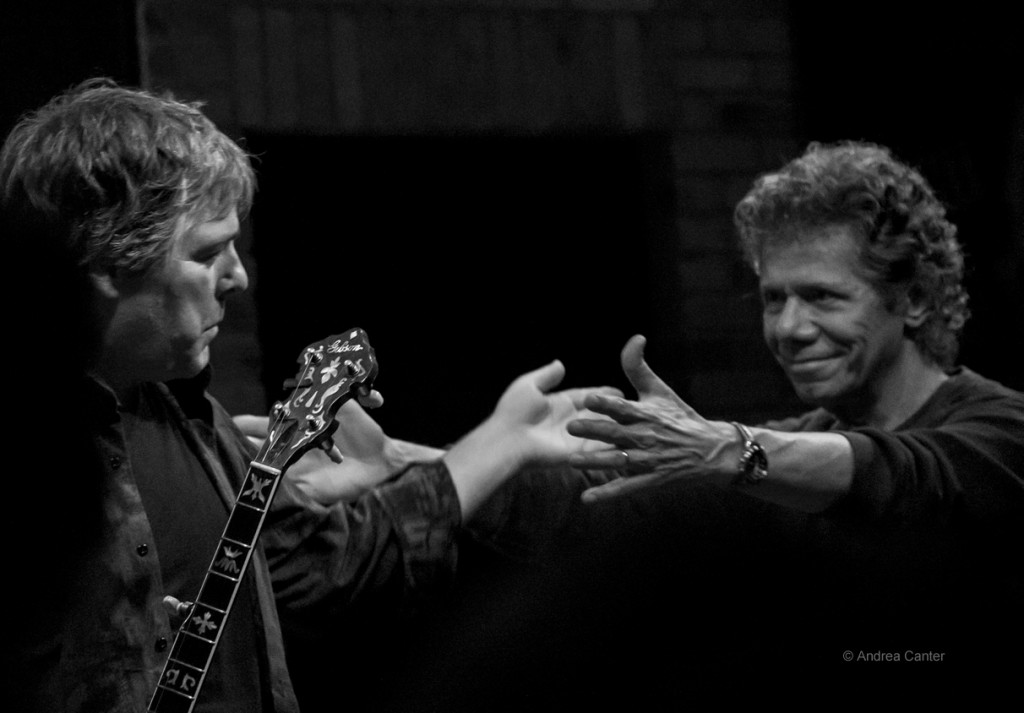 "…brilliant musicians engaged in egoless, intimate communication. They share clarity, focus, and inspiration simultaneously." —AllMusic
"Solo piano for me has always been a lonely pursuit. It only goes a certain way until I start missing the collaboration, because for me the joy of music is making music with others." –Chick Corea
At first glance, pairing piano master Chick Corea with banjo titan Bela Fleck might seem a bit far-fetched. But consider that both artists are among the living legends on their respective instruments; that Fleck was inspired by hearing Return to Forever—featuring Chick Corea; that both musicians have had significant affiliations with bassist Stanley Clarke. In 2008, these two artists came together to release The Enchantment, which went on to win a Grammy for Best Instrumental Composition (Fleck's "Spectacle") and prompted successful multi-year tours. Five years later, the magic came to the Twin Cities when Corea and Fleck brought their "enchantment" to the Dakota Jazz Club in downtown Minneapolis. In 2015, Corea and Fleck released a stunning two-volume collection of the best moments of their live performances, simply titled Two, prompting more touring. The Dakota is sponsoring their 2016 Twin Cities reunion, this time moving the show to The Guthrie Theater on Monday, April 18 (7:30 pm).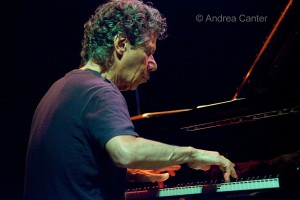 Pianist/keyboardist Chick Corea has accumulated 23 Grammy awards over his five-decade career. Making waves early with Miles Davis, Corea has since explored a vast range of music, leading bands Circle, Akoustic Band, Elektric Band, Circle, Touchstone and Five Peace as well as RTF, and delving into modern post bop, Latin, and fusion. Arriving on the heels of Bill Evans and McCoy Tyner, Armando Anthony Corea was born in Chelsea, Massachusetts and was studying piano by age four. As a youngster he heard recordings of Charlie Parker, Dizzy Gillespie, Bud Powell, Lester Young and Horace Silver, as well as Beethoven and Mozart, all of whom became sources of inspiration. In the mid-60s he worked in Blue Mitchell's band, leading to his first project, Tones for Jones Bones.  He developed a love for Latin music in the bands of Cal Tjader, Herbie Mann and Mango Santamaria and honed his chops a year with Sarah Vaughan before getting his big break with Miles Davis. Later, with the Bitches Brew and In a Silent Way sessions to his credit, he formed avant garde Circle with Dave Holland, Anthony Braxton and Barry Altschul; in the early 70s his focus shifted to fusion with the Moog synthesizer and Return to Forever; in the 80s he led the Elektric Band, and in the late 90s, moved back into acoustic piano with Origin and other projects.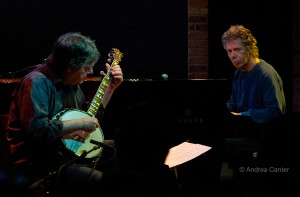 Corea cofounded Stretch Records in 1992 which morphed ultimately into a subsidiary of Concord. Over the past two decades, his collaborations have included celebrated duos with Gary Burton and outings with the St. Paul Chamber Orchestra and London Philharmonic. And he explored his Latin roots with his ensemble, Touchstone. The 21st century has been one of reviving past partnerships—the "return tours" of Return to Forever, the revival of his collaboration with John McLaughlin from his Miles Davis days (Five Peace Band), a duet with Japanese superstarlet Hiromi with whom he first played when she was in high school, a tour with Stanley Clarke and Lenny White, and his eagerly anticipated reunion with Gary Burton, which yielded two 2013 Grammies (Best Improvised Solo, Best Instrumental Composition) and two more nominations for Hot House. And of course, there's the partnership with Béla Fleck. Corea was named an NEA Jazz Master in 2004.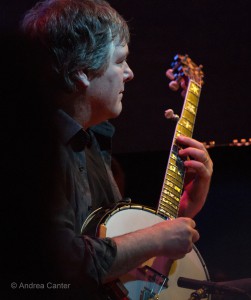 Winner of 15 Grammies (of 30 nominations) over his career, Béla Fleck is considered by many to be the premier banjo player in the world.  A New York City native, he began his musical career playing the guitar. In the early 1960's, while watching The Beverly Hillbillies, Béla was awed by the bluegrass sounds of Flatt & Scruggs, particularly Earl Scruggs's banjo style. "It was like sparks going off in my head" he later said. The banjo finally became his fulltime passion when his grandfather bought him his own instrument in 1973. At the same time, Béla entered New York City's High School of Music and Art where he began studies on the French horn but was soon demoted to the chorus due to inadequate skills. With no banjo instruction available, Bela sought lessons beyond school, studying with Erik Darling, Marc Horowitz, and Tony Trischka, and joining a band, "Wicker's Creek."  Attending a concert by "Return to Forever," Béla was further inspired to continue his experiments with bebop and jazz on the banjo. Right out of high school, Fleck moved to Boston to play with Jack Tottle's Tasty Licks, making two albums with the band before releasing his own solo debut, Crossing the Tracks in 1980. Here he also first played with future partners Sam Bush and Jerry Douglas. With the break up of Tasty Licks, Bela moved to Lexington, KY to form Spectrum with bassist Mark Schatz, touring for about a year and recording Natural Bridge (1981) with David Grisman, Mark O'Connor, and Ricky Skaggs.  In 1982, Fleck joined the progressive bluegrass band New Grass Revival, charting new territory over five albums with their blend of bluegrass, rock and country music, and exposing the bluegrass/acoustic music world to the wonders of Béla Fleck.
In 1988, after meeting Howard Levy at the Winnipeg Folk Festival, Fleck put together the band that became the genre-busting Flecktones, initially for a single concert on PBS' Lonesome Pine Special. With Levy, bassist Victor Wooten and percussionist/drumitarist Roy Wooten, the Flecktones became one of the most innovative and popular ensembles of the day, continuing as a trio when Levy left, returning to a quartet with the addition of saxophonist Jeff Coffin, winning five Grammies in various categories. When Coffin moved on to the Dave Matthews Band in 2008, Levy returned, and the original Flecktones were back touring and recording. Fleck has continued to have a musical life beyond the Flecktones, working over the years with Edgar Meyer, Zakir Hussein, Toumani Diabte, the Nashville Symphony and more; touring with a trio including Jean-Luc Ponty and Stanley Clarke; recording and touring with Chick Corea (The Enchantment, Two), recording and touring with the Marcus Roberts Trio, and touring and recording with his wife, vocalist/banjoist Abigail Washburn.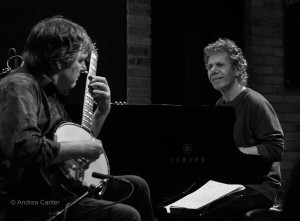 Notes Chick, "Béla took the banjo and brought it up to the level of a truly virtuosic instrument." And when combined with Corea's equally virtuosic piano, the result is… pure enchantment.
Chick Corea and Béla Fleck perform at The Guthrie Theater's Wurtele Thrust Stage at 818 S. Second Street, Minneapolis; tickets now only available from the Box Office at 6120377-2224.