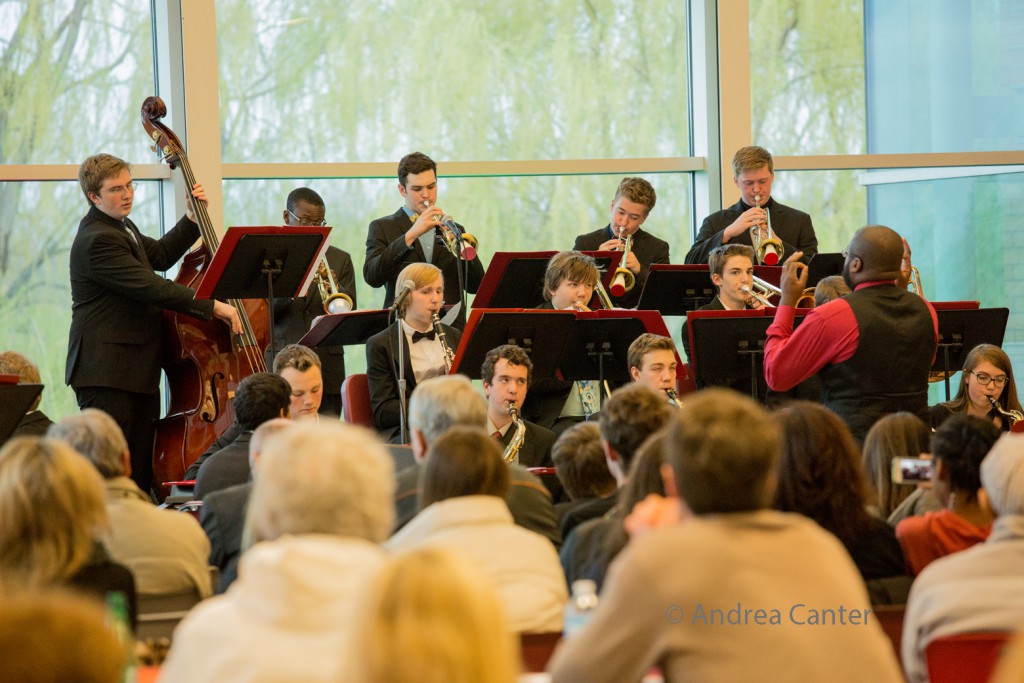 "We are going in….full throttle, no holds barred improvisation at its finest," notes Red 5 leader and bassist, Chris Bates.  On hiatus for much of the past year, modern jazz band Red 5 will collaborate with the Eden Prairie High School jazz ensembles as part of their band program's fundraiser, the third annual Prairie City Limits Jazz Festival, April 19. Following clinics and master classes led by Bates and his bandmates, the public concert–featuring sets by the school jazz bands as well as Red 5–will begin at 7 pm.
Red 5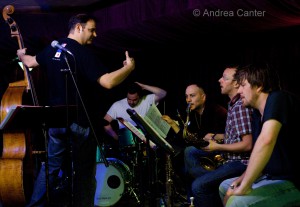 Chris Bates launched Red 5 in 2012 via a series of "open sessions" at Jazz Central Studios, bringing original compositions to the band to test drive and tweak before live audiences before heading into the studio to record New Hope. The album pleased audiences and critics alike, the only jazz release in the top 20 choices of Star Tribune critics for 2012. The band has since performed sporadically on local stages (the Artists Quarter, Icehouse, Studio Z, Black Dog), the long periods between performances reflecting the very busy schedules of the ensemble musicians, each of whom performs with numerous bands in the metro and beyond. "The nature of running your own band filled with your favorite musicians means you are at the mercy of fate in trying to schedule around 5 people in high demand," notes Bates. "It's a challenge to bring together the most sought after players on the Twin Cities creative music scene."  While the band has been on hiatus, Chris has continued to write new works for the band, which will debut two compositions at Prairie City Limits, as well as three original big band arrangements written specifically for the high school jazz bands. And Red 5 will take on a new sound as Bates expands to a sextet with the addition of guitarist Thomas Nordlund. Nordlund joins core band members Brandon Wozniak (saxophones), Zack Lozier (trumpet), and JT Bates (drums), along with Chris Bates (bass); joining Red 5 for this performance will be saxophonist Michael Lewis, filling in for Chris Thomson.
"The Red 5 ensemble was created to challenge my abilities, to stretch my composing skills and lastly to celebrate the improvisational culture of this geographical area," notes Chris. "This is not a safe band….We fly at the edge of our seat at all times, we are consistently challenging each other rhythmically, harmonically and spiritually to push past preconceived notions of jazz. This unit was built to celebrate the making of music…There is a great deal of love and respect on the bandstand and we really want our audience to participate in this…..it's a community vibe!"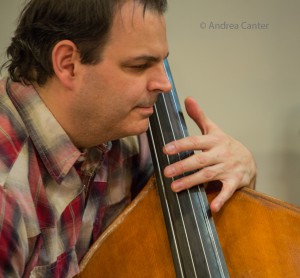 Chris Bates and his brother, drummer JT, grew up with jazz, sons of trumpeter/bandleader Don Bates. He began bass lessons in 4th grade and progressed to jazz studies at the University of Wisconsin-Eau Claire before returning to the Twin Cities to study with Anthony Cox. A member of the 1990s ensemble, the Motion Poets, Chris was a 1999 McKnight Composer Fellow and in 2014 was awarded a commission from local new music ensemble Zeitgeist. He often lends his compositions to the many ensembles that he juggles throughout his busy performance schedule. Over his career, he has played with Mose Allison, Lee Konitz, Joe Lovano, Steven Bernstein, Howard Levy, Michael Attias, Ira Sullivan, Bill Carrothers, Eric Alexander, Ari Hoenig and Tim Sparks, among others. In addition to his local ensemble work (Atlantis Quartet, Red Planet, How Birds Work, Klezmerica, Enormous Quartet, Framework, Leisure Valley, Zacc Harris Group, Dean Granros' Tall Tales, Bill Simenson Orchestra) and leading Red 5 and the Good Vibes Trio, Chris has played solo concerts using both acoustic and electronic instruments, and appears on over 30 recordings. In spring 2013, Chris launched a monthly improvisation series at Jazz Central Studios in Minneapolis, "Magica Improvisado."
Saxman Brandon Wozniak previously lived and worked in New York City, toured with the Tommy Dorsey Orchestra, and earned his BA from Indiana University under the tutelage of the late David Baker. Since arriving in the Twin Cities in 2006, he has performed with local bands including Red Five, Dave King Trucking Company, the Bryan Nichols Quintet, Zacc Harris Quartet, and Vector Families; and in varying combinations with Adam Linz, Billy Peterson, Dean Magraw, Kenny Horst, Zacc Harris, Steve Kenny and more. Over its first two seasons, Brandon has performed on the Jazz in the Target Atrium Series at Orchestra Hall as part of the Atrium Jazz Ensemble, led by Jeremy Walker.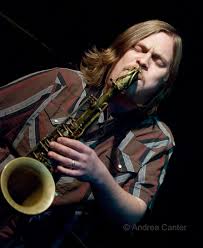 Michael Lewis is best known around town and well beyond as one of the most creative sax players in modern music, lending his blowing skills to the acclaimed Happy Apple, Fat Kid Wednesdays, the Bryan Nichols Quintet and more. Noted Richard Brody in The New Yorker, "Lewis's dry, metallic tone on alto and tenor and the free melodic logic of his improvisations recalls the playing of Ornette Coleman…as well as the fragmentation of mid-sixties Sonny Rollins, the quizzical assertions of the great altoist John Tchicai, and even the visionary gospel rhapsodies of Albert Ayler… Lewis's solos, digging from melody to wail, moving from a breathy, atonal whisper to a deep, swinging groove, have a vulnerable, confessional air." Mike continues to lead a double life in music, playing bass with Bird, Dosh, Alpha Consumer and Red Start.
Trumpeter Zack Lozier has played with a diverse range of bands, from Jazz Brass and Southside Aces to Davina and the Vagabonds to the Adam Meckler Orchestra and Todd Clouser. A graduate of the Milwaukee High School of the Arts, Zack also keeps busy leading his own ensembles, composing, adding vocals, arranging, and producing.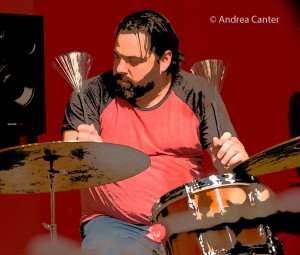 Drummer JT Bates curates the Jazz Implosion Series at the Icehouse in his spare time, in between gigs with Happy Apple, Fat Kid Wednesdays, Bryan Nichols, brother Chris, Zacc Harris,  Adam Linz, The Pines and more. Noted Richard Brody in The New Yorker, "In free rhythm, his shimmering cymbals recall Sunny Murray's work with Ayler; the tom-tom groove is like the one Ed Blackwell got with Coleman; and, when he plays on an ethereally introverted modernistic piece, he sounds like a one-man Art Ensemble of Chicago, ready to use anything for the right sound—chopsticks, chains, his hands, and even the nub of a drumstick, which he rubs on cymbals to make them whisper as if butterflies were beating their wings upon them."
Twin Cities guitarist Thomas Nordlund earned a BA in Guitar Performance at the University of Minnesota-Morris and a certificate in Jazz Studies from the Universit of Auckland, NZ. He recently released an album of eight original compositions (Divide Avenue), featuring a strong cast of metro musicians.  In addition to leading his own band, Thomas performs regularly with vocalists Sarah Morris and Jana Nyberg, and has performed with Andrew Foreman, Patrick Harison, Adam Meckler, Ben Abrahamson, and other area standouts.
Prairie City Limits
Eden Prairie High School has a long history of excellence in music education, and in 2016 received a Merit Award from the National Association of Music Merchants Foundation for Outstanding Support of Music Education – the only high school in Minnesota to be awarded that distinction. The Eden Prairie Band Department and the Eden Prairie Band Parent Association host the Prairie City Limits Jazz Festival each year; previous clinicians/performers have included the Christopher McBride Quintet from Chicago and the John Raymond Quartet from New York. Chris Bates and musicians of Red 5 will conduct clinics and master classes with EPHS students Monday and Tuesday, April 18-19, ending with a fundraising concert Tuesday night. Red 5 will play with about 60 jazz students in Jazz I Jazz II and Jazz Combo, as well as performing their own set.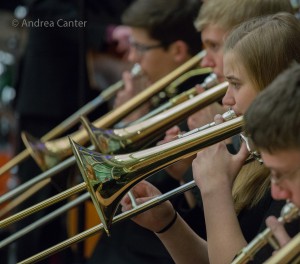 Taiha Wagner of the Eden Prairie Band Parent Organzation, and parent of two former EPHS jazz band students, notes that "The BPO supports the goals of our music directors, and providing our jazz students with a variety of learning experiences and teachers is important to us. Some of our students are choosing to major in music after leaving Eden Prairie High School. Without experiences like this they may never have had the opportunity to meet professional musicians and consider creating and teaching art as a profession. It's a unique opportunity and we're lucky to have band directors with a vision for the future." Adds Whipkey, "I think it heightens their understanding of all music. They get to experience a true performer live, which not all students get the opportunity to do in today's busy life. I think it's important to be able to bring that in and give students a conversation about performers."
Grant Henry of the Band Parent Organization also notes the talents of EPHS jazz students as top reason to attend the April 19th concert: "The kids can really swing. Eden Prairie High School's three jazz ensembles and jazz combo, under the direction of Mike Whipkey and Michael Okwabi, regularly receive top ratings at local jazz festivals at McNally Smith College of Music, the University of Minnesota, and the University of Wisconsin-Eau Claire. In 2015, 40 jazz students from Eden Prairie toured New Orleans, performing in the birthplace of jazz." Henry also notes the important opportunity to perform music  under the guidance of the composer. "Bates is debuting three new jazz compositions at Prairie City Limits, giving students the invaluable gift of working directly with a composer."
And EPHS junior Jacob King notes that "a new guest musician comes to Eden Prairie each year and works with all the jazz bands to make them better."
All proceeds from ticket sales go to the Eden Prairie High School music education programs.
Eden Prairie High School is located at 17185 Valley View Road, Eden Prairie. Tickets $5 students, $15 adults, at the door or in advance at www.edenprairiebpo.org